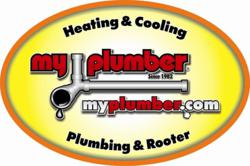 The Marines' Toys for Tots Drive, gives joy and hope to those in need in our community, and we're proud to be a part of that and support it in any way we can
Manassas, VA (PRWEB) December 14, 2012
Family-owned, plumbing and heating repair service company, My Plumber, announced, last week, the beginning of its 5th Annual Toy Drive, in support of the U.S. Marines' Toys for Tots Charity.
The toy collection campaign runs through December 16th. My Plumber technicians can pick up toys, in the course of service calls, or local residents can drop off their donations at any of the My Plumber locations.
R. Wendell Pesgrave, My Plumber's founder, said, "Community service has been a guiding principle at My Plumber since I founded it in 1982. We have always recognized that our work is for the community, our strength is contingent on the strength of the community, and that as members of the community, we're only as strong as our weakest joint. Little plumbing humor there for you." He continued, "The Marines' Toys for Tots Drive, gives joy and hope to those in need in our community, and we're proud to be a part of that and support it in any way we can."
My Plumber, and Toys for Tots, requests that people make donations of only new, unwrapped toys for kids up to the age of twelve. Unfortunately they cannot accept food-based gifts or realistic-looking toy weapons. Gifts of this nature will not be distributed. The Marine's will be picking up the toys on December 16, so they can be sorted and distributed in time for Christmas, so arrange your donation soon!
About My Plumber:
My Plumber Heating and Cooling, a family-owned and operated full-service heating, cooling and plumbing company since 1982, offers a complete range of residential and commercial services including furnaces, water heaters, drain cleaning, sump pumps, 2-day bathroom remodels, and more with a Same Day Service Guarantee. Serving communities throughout Northern VA and Maryland areas including: Arlington, Alexandria, Fairfax, Springfield, Bethesda and Silver Spring. My Plumber Heating and Cooling has won numerous awards including 2011 Top Contractor to Work For P&M Magazine, 2011 Finalist for National Capital Business Ethics Award, 2011 Washington Business Journals Top 10 Mechanical Contractors, 2011 Smart CEO for D.C. Metro Area Top 10 Executive Management Teams and 2011 PHC Magazines Top 100 Mechanical Contractors. For more information about My Plumber visit http://www.MyPlumber.com or call 866-779-7204.