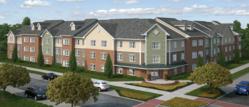 Columbus, IN (PRWEB) December 18, 2012
Central Park Place is a brand new community of 63 one- and two-bedroom garden style apartment homes located at 1500 13th Street Columbus, IN 47201. In keeping with its green initiatives, Miller-Valentine Group planned and constructed this community with energy-efficient design and Energy-Star Rated appliances. The project is on track to be finished shortly after the New Year, but Central Park Place is already accepting applications.
Adjacent to downtown Columbus, this affordable senior living community is located on the West side of Central Avenue. Miller-Valentine Group chose the name "Central Park Place" due to the community's close proximity to the Central Park neighborhood. The location means that residents will be less than half a mile from the local United Way, Aging and Community Services, Sans Souci Inc., a bus stop, park space, Lincoln Central Neighborhood Family Center, banking, and dozens of other organizations, services, and business.
Within a mile and also connected by sidewalk, residents will have access to downtown services including The Commons, Country and City Services, Mill Race Center and other retail and entertainment options.
For more information about Central Park Place or other Miller-Valentine Group communities, please call 1-800-329-RENT (7368), email us at yournextplacetolive(at)mvg(dot)com, or visit YourNextPlacetoLive.com.
About Miller-Valentine Group
Since our founding in 1963, Miller-Valentine Group has been dedicated to quality, value and service. Our vertically intergraded companies offer total real estate solutions in the areas of Design/Build Construction, Development, Management, and Financing for both residential and commercial markets. They also provide Renovation, Brokerage, and Leasing services for commercial markets. All of Miller-Valentine Group's divisions have combined to provide customers with more than 11,000 residential housing units and over 50 million square feet of commercial space.
Miller-Valentine Group develops real estate in the Midwest, Southeast, and Southwest regions of the country, with offices in Dayton and Cincinnati, Ohio, Columbia and Charleston, South Carolina, and Ft. Worth, Texas. As an industry leader they offer a wide range of residential products, including multi-family, single family, military housing, active adult, independent and assisted living, as well as skilled nursing communities. The company also offers a vast array of commercial products, including office, retail, lodging, healthcare, manufacturing and distribution facilities.