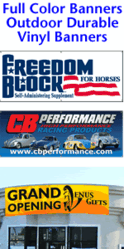 The 15% off Custom Banners Sale Does Not Have Any Banner Size Restrictions.
Glendale, California (PRWEB) December 21, 2012
For the month of December, Digital pre Press Services, Inc. is offering savings when customers order custom vinyl banner printing online. The month sale starts December 1st and continues through December 31st 11:59pm.
Custom banner printing constitutes a banner where the business or organization supplies their original digital image to be produced on an indoor/outdoor vinyl banner. Each of the banners is made from durable 13 oz scrim vinyl material and comes with free Hem and Grommets.
The 15% off custom banners sale does not have any banner size restrictions. Companies can get the benefits of a custom banner while getting the size banner they need within their allotted budget. DPS strives to provide custom banners for all budgets and the 15% off sale is just one way the company accomplishes this.
In addition to the 15% off custom banners sale, all orders over $149 will receive free shipping. The free shipping offer extends into purchases of banner stands and pre-designed banners as well. Any combination of these products will be counted toward the $149 minimum purchase amount to qualify for free shipping.
Be sure to follow Digital Pre Press Services, Inc. on Twitter and "Like" the company on Facebook to receive up to date information on sales, special events and promotions.
For more information about Digital Pre Press Services, Inc. or any products offered by the company, please visit http://www.dpsbanners.com
About Digital Pre-Press Services, Inc.:
Founded in 1996, Digital Pre-Press Services, Inc. is visible online at DPSBanners.com and on location in Glendale, California. The company provides simple, affordable and professionally designed banners that can be personalized and customized exclusively online. Through the site, DPS has a wide array of products including banner stands, window clings, car magnets, retractable banner stands, sidewalk signs, pre-designed banners and more.
Contact:
Digital Pre-Press Services, Inc.
Toll Free (888) 790-2665
Local (818) 240-2004
Fax (818) 240-3456
###