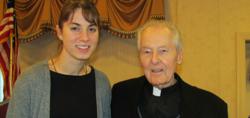 "In her quiet manner, Laura touches people's lives with her compassion, warmth, and gentleness. She truly lives the charism of the Sisters of St. Joseph by 'uniting neighbor with neighbor and neighbor with God without distinction.'"
Chicopee, Massachusetts (PRWEB) December 17, 2012
Elms College senior Laura Fusini received the Bishop Joseph F. Maguire Award during the Western Massachusetts Chiefs of Police Association (WMCOPA) President's Inaugural and Annual Awards Meeting on Tuesday. The award was established by WMCOPA in honor of retired Bishop Joseph F. Maguire in recognition of his outstanding service as the association's chaplain for the past 33 years. It is given annually to an Elms College junior or senior who is enrolled in the field of religious studies, or has made outstanding contributions to the community service or campus ministry programs.
Fusini is an English and religious studies double major with a 3.8 grade point average. She participates in Bible study group and is the editor of Bloom, the college's student-run literary magazine. She has been a Deanery Scholar all four years of her college career. She will participate in a college service trip to Baltimore, Md., in January where she will work in a soup kitchen and food pantry.
"Laura has a strong commitment to social justice and to the people of God as expressed through her outreach ministries in the community," said Carol Allan, SSJ, M.A.T., Elms College director of campus ministry. "In her quiet manner, she touches people's lives with her compassion, warmth, and gentleness. She truly lives the charism of the Sisters of St. Joseph by 'uniting neighbor with neighbor and neighbor with God without distinction.'"
The Bishop Joseph F. Maguire Award is intended to provide financial support to an undergraduate student who has distinguished herself or himself through dedicated efforts in building traditions of faith and who demonstrates a commitment to the Catholic social teachings in building a just society amidst the challenges of a modern world.
"I was proud and honored when I found out I was receiving the award, but it meant so much more after meeting Bishop Maguire," Fusini said.
Fusini was awarded $1,000 to assist in meeting her educational goals, professional objectives, and succeeding to her fullest ability.
Elms College is a co-educational, Catholic college offering a liberal arts curriculum that gives students multiple perspectives on life. Founded in 1928 by the Sisters of St. Joseph, Elms College has a tradition of educating reflective, principled, and creative learners, who are rooted in faith, educated in mind, compassionate in heart, responsive to civic and social obligations, and capable of adjusting to change without compromising principle.