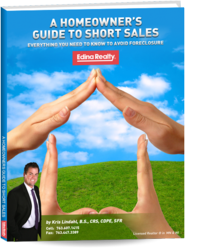 Studies show that lenders realize more money from the short sale than they do when a property is sold after foreclosure
Blaine, MN (PRWEB) December 14, 2012
The Edina Realty Agent Kris Lindahl, who has experience with USDA, explains why a short sale is a better alternative than a foreclosure for many reasons.
"Lenders don't like foreclosures for many reasons," Kris Lindahl says, and continues,"Studies show that lenders realize more money from the short sale than they do when a property is sold after foreclosure, the short sale process requires fewer of the lender's resources, and if the home fails to sell at a foreclosure auction then it is expensive to maintain, insure and secure until it sells."
"For these reasons, and more, the best choice for a homeowner to sell their home quickly is to use the short sale process. Lenders are more keen to this idea and will work more fluidly knowing it will go smoother for them as well as you,"Kris Lindahl expalins. This information comes from Kris Lindahl's recently published eBook that is available for free download, and is title "A Homeowner's Guide To Short Sales."
For excellence in sales and sales volume year-to-date Kris Lindahl has recently received the Chairman's Award, the highest honor for a real estate agent, from Edina Realty. Speaking of his success Kris said,"I chalk it up to hard work and a technological edge over most other agents across the country. I know real estate like the back of my iPad."
"When buying or selling a home you need to have the best tools out there at your fingertips, and with me as your agent I can guarantee that will be true,"Kris Lindahl explains. Kris Lindahl has also created three short sale calculators, has a planned down payment assistance calculator website in the works, and has a video series on YouTube.
Call Kris Lindahl and the Kris Lindahl team at (763) 607-1415 for more information. Visit the Kris Lindahl website for more information as well.