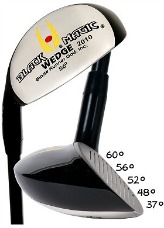 Better Short Game By Design
Clearwater, Florida (PRWEB) December 17, 2012
Black Magic Wedge is a great way to buy quality golf products on line. The website has new technology in golf hybrid wedges and face balanced putter. From novice to professional golfers, Black Magic Wedge offers a new look at the short game. The patent design of the face free hosel makes the Black Magic Wedges virtually impossible to shank allowing golfers to get very creative with their short game. Their sand wedges along with the gap wedge, lob wedge and pitching wedge has gotten maximum response from customers for its design and function.
Black Magic is a registered trademark for golf products of Blade Runner Golf, Inc. where the company strives to bring the best standards in short game products. Based on up-to-date golf technology and equipment, a right choice in sand wedges plays an important role that can affect the golfer's playability while playing different types of shots. All the wedge designs offered at Black Magic Wedge by the company are original and patented that features an innovative concept of bounce with the purpose of making all shots easier. Blade Runner Golf, Inc. also offers a unique collection of golf clubs for the short game that provides real performance and results for a golfer's game. The reviews posted by customers for Black Magic sand wedge offered to them online shows that their score has been lowered by many strokes.
About Black Magic Wedge
Black Magic Wedge is authorized by Blade Runner Golf, Inc. The company has included all informational updates along with the product for customers' convenience. Their website is a complete online store for their wedges and putter. To know more about the wide collection and their prices with all updates, please visit http://www.blackmagicwedge.com.