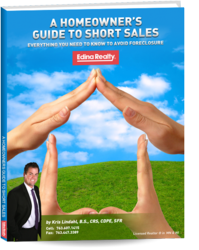 A lender's top priorities when determining whether or not to grant a short sale are the value of the home, the homeowner's hardship, and the buyer's qualifications
Blaine, MN (PRWEB) December 14, 2012
"Not all homeowners are provided the short sale opportunity for a few reasons," Kris Lindahl says, and continues,"The lender may believe it will have a qualified buyer at auction, the homeowner might have enough assets to work out a repayment plan with the lender, the offer to purchase could be too low, or the buyer may not qualify for a loan."
"These are rare occasions but are worth looking out for," Kris Lindahl explains. "A lender's top priorities when determining whether or not to grant a short sale are the value of the home, the homeowner's hardship, and the buyer's qualifications. These are important to keep in mind as well."
"The first step in the process, though, would be to find out if you are eligible for the short sale process." Kris Lindahl has made three short sale calculators including the Minnesota Short Sale Calculator website that help homeowners determine whether or not they are eligible for the process.
"I've also recently published an eBook and have an on-going video series on YouTube," Kris Lindahl says. Kris Lindahl recently received the Chairman's Award, the highest honor a real estate agent can receive, from Edina Realty for excellence in sales and sales volume year-to-date.
"I attribute my success to hard work, dedication, and a technological expertise that gives me an edge over other agents across the country. Having the best tools at your fingertips when buying or selling a home is an absolute must and when you have me as your agent I can guarantee that will be the case," Kris Lindahl says.
Call Kris Lindahl and the Kris Lindahl Team at (763) 607-1415 for more information. Download "A Homeowner's Guide To Short Sales" for free and visit the Minnesota Short Sale Calculator to check eligibility. Check out the Kris Lindahl website for more information.