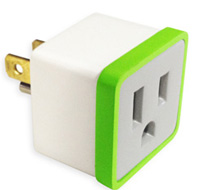 We're empowering consumers with a greater control on how much they consume and spend on electricity by providing a tool that allows them monitor and manage their consumption directly from the palm of their hands
DAVIE, Fla. (PRWEB) December 14, 2012
Live Easy Technologies (LiveEasyTech.com) today announced the launch of its second IndieGogo.com project; MeterPlug. MeterPlug connects between an electrical outlet and any appliance or device and measures electricity usage of each appliance.
The MeterPlug utilizes Bluetooth technology to send usage and cost data straight to a free-to-download smartphone App. Straight from their smartphone, consumers can keep track of electricity usage from wattage and voltage, down to the actual dollar amount spent, Automatically calculated by the MeterPlug app. based on a user's local electricity bill rate.
"We're empowering consumers with a greater control on how much they consume and spend on electricity by providing a tool that allows them monitor and manage their consumption directly from the palm of their hands," said Jimmy Buchheim, founder, Live Easy Technologies. "While testing the MeterPlug, we found that our 50" LED TV consumes $18.25 per year just in standby mode alone. MeterPlug will give consumers access to this type of information directly, allowing them to conserve energy and the dollars in their pockets."
Features and Benefits of MeterPlug:

Lower Electricity Bills – MeterPlug allows consumers to identify the appliance costing more to run than others, calculating best times to run appliances and for how long. Setup an alert when a specific device's running cost goes over a pre-selected amount giving the ability to execute functions such as turning off a portable heating device once it hits more than a dollar a per day.
Understanding Consumption – The MeterPlug App displays live Dollar consumption of a connected appliance, monitoring how much appliances are costing per hour, day, week, month , based on your REAL electricity costs. MeterPlug downloads current Electricity costs based, on your resident State and Country.
Control Appliances and Devices – The MeterPlug can turn on and off any appliance connected by using Bluetooth enabled proximity detection. The function controls appliances by turning them off when walking away and on when coming back into a room.
Manage "Vampire Power" – MeterPlug addresses the effects of Vampire Power – the electricity that appliances "suck up" even while the power switch is off. By enabling The Vampire Power Shield with the smartphone App. users can program an automatic turn-off function for appliances consuming power while in sleep mode.
Proximity Control - You can program it to turn Off and appliance when you walk away and turn back On when you return.
Manual On/Off - You can manually turn On or Off any appliance connected to MeterPlug within a 100 Foot range.
Following the success of the StickNFind campaign on crowdfunding platform Indiegogo, MeterPlug will be the second product in the showcase lineup at CES 2013.
Live Easy Technologies will be located at Booth #3731, iLounge Pavilion at the Las Vegas Convention Center from January 8-11, 2013 in Las Vegas, Nevada. If interested in an on-site demonstration, please contact Ronjini(at)ThesilverTelegram(dot)com.
"I encourage everyone to stop by our booth for a hands-on demo of all of our projects," said Buchheim. "The most rewarding part about creating the MeterPlug is that we're not only helping people but also the environment by creating an easy to use and install device that will lessen our contribution to the human carbon footprint."
Visit the official MeterPlug Indiegogo page for more information:http://www.indiegogo.com/meterplug/x/1892466
Technical Requirements Include:
iOS devices with Bluetooth 4.0 - iPhone 4s, iPhone 5, new iPad, New Touch, mini iPad.
Android Devices with Bluetooth 4.0 - Samsung Galaxy S3, Galaxy Note 2, Nexus 4,, plus more.
About Live Easy Technologies
Live Easy Technologies is a product development company specializing in RF and very small Bluetooth designs. For more than 12 years, the company has been designing and managing a variety of products for large companies ranging from automotive Bluetooth solutions to various health and fitness Bluetooth products, many of which are currently being sold in retail outlets worldwide. For more information on Live Easy Technologies, visit the company's website at http://www.LiveEasyTech.com.