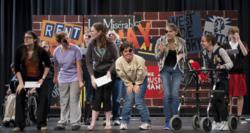 These kids gave me enough energy to last for a whole month! Their enthusiasm was contagious and a there was never a practice when I didn't walk to my car without a smile!

Volunteer with CCTA's Theater for Special Needs Youth
Columbia, MD (PRWEB) December 18, 2012
The Columbia Center for Theatrical Arts (CCTA) has received funding from The Columbia Bank and CVS/Caremark to support theater arts programming for special needs youth in Howard County, MD. This innovative project utilizes the power of theater to provide theatrical experiences that are therapeutic as well as inspirational under the guidance of speech-language pathologists, special education specialists, local school system and the CCTA staff. Through theater, these young actors have an opportunity to express themselves, step out of their shell and gain a greater awareness of and sensitivity toward others.
The program began in 2009 in partnership with the Loyola University Maryland Clinical Center's Columbia Campus as a pilot class for special needs youth ages 10 – 17. It has grown to include a third partner, the Howard County Public School System (HCPSS), and today serves approximately 35 students ages 9-18 annually.
Both the $500 grant from The Columbia Bank and $1,500 grant from CVS/Caremark will support programming at the following locations:
St. John's Parish Day School (Ellicott City, MD) – A Saturday morning class geared toward special needs youth in grades 4 – 8. It is taught by a CCTA musical theater instructor and musical director with guidance from a speech-language pathologist. An assistant and volunteers provide nearly a 1:1 staff-to-student ratio. It runs both fall and spring and culminates in an original performance.
Glenelg High School (Glenelg, MD) - An inclusive theater project in partnership with the school's Special Education and Theater departments. "Typical" students at the school volunteer as role models to create an inclusive cast. Last month participants joined the cast of a school-wide production of You're A Good Man, Charlie Brown!
Lime Kiln Middle School (Fulton, MD)– A partnership of CCTA, HCPSS and Loyola University. Each class begins with a 45-minute session of traditional speech therapeutics led by Loyola's graduate clinicians. CCTA follows with a musical theater component that builds on those therapeutics. Special needs students are matched with "typical" student volunteers from the school.
For more information, contact the CCTA office at info (at) CCTArts (dot) com or 410-381-070