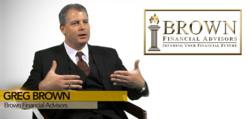 At Brown Financial Advisors, we work for clients, not companies.
Cincinnati, OH (PRWEB) December 19, 2012
Brown Financial Advisors was awarded the "Best of the Best" designation for excellence by Follow Media Consulting, Inc. for their video in the category of Financial Advisor Cincinnati and Financial Planner Cincinnati. They can be reached at (513) 334-3777. This award signifies the continued commitment and dedication of the areas best in financial advice and planning.
Brown Financial Advisors is an Independent Registered Investment Advisory Firm, overseeing and coordinating the financial success of individuals in Ohio and Kentucky. Their mission is to provide the families and businesses we serve with innovative investment strategies, solutions, and planning that result in financial clarity and security.
In the financial services industry, there are generally two ways of obtaining financial advice: one is given by stockbrokers and the other is given by investment advisors. Many investors are not aware that investment advisors have a fiduciary duty to act in the best interest of their clients at all times, while stockbrokers, bankers, insurance agents and registered representatives do not.
Information is power in today's difficult financial world, so Brown Financial Advisors will strive to educate their clients on the most appropriate strategies available to them. They are a fee-based advisory firm with a fiduciary duty to recommend the most appropriate services based on the client's best interest and the customized plan, not based on a commission generated from a product transaction.
Brown Financial Advisors offer their prospective clients a complimentary, no obligation risk and financial assesment where we provide third party analysis of their current investments, personalized income projections, and powerful ideas for immediate implementation. You can also visit their website at http://brownfinancialadvisors.com/.
About Follow Media Consulting, Inc.
Named one of the best SEO companies by Jonas Marketing, Follow Media Consulting, Inc. is a rapidly growing worldwide firm of SEO, Social Media, and Mobile Marketing Professionals. Follow Media Consulting, Inc. headquarters is located in Richmond, VA. However, our professional team is networked across the world, with regional offices across the United States, in the United Kingdom, Canada, Australia, France, South Africa, the Philippines, and India.