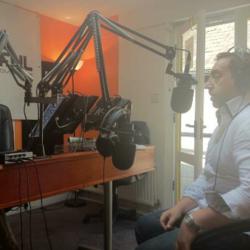 This is a time of year for looking back on what you have done and what you have achieved.
London, UK (PRWEB UK) 17 December 2012
Superstars founder Steve Hutson continues his regular appearances on Colourful Radio's Life With Juicy Jaxx. This week, Jaxx and Steve discussed the much-maligned office Christmas Party in the wake of a Daily Mail article that claimed hungover staff cost the economy around £260 million of the festive period. Steve was unconvinced.
"What's really important is that companies must look after their staff," he told Jaxx. "Parties are a controlled way of letting off steam."
Steve's position is that, in the current climate, employers need to help staff to feel positive and to really acknowledge their contribution. "We have gone through so much hardship over the last three or four years and this is a time of year for looking back on what you have done and what you have achieved."
"You have to think about the way your team would behave if they didn't have a party! If your team are exhausted and having a hard time and you haven't got any way of thanking them then how are they going to be motivated for you for next year?"
Hutson dismissed the idea that Christmas celebrations were a drain on businesses. "If it's about loss of hours why don't you do it on a Friday?" he told Jaxx. "Or do it at lunchtime - let people have the afternoon off and they can recover in the evening for the following day.
"There are lots of alternative ways of saying 'thank you' and rewarding people for their hard work," he continued. "Because we are a startup we haven't been able to do bonuses for everybody so what I decided to do was to give everyone an extra day's holiday over Christmas."
Jaxx also wanted to show Steve a piece on ERE.net about how the recruitment industry is in danger of being disrupted by new ideas. Steve could not agree more.
"We have to change, It is so, so important," Steve told Jaxx. "We are trying to keep that message going and - boy - are we going to disrupt next year."
"All the things that this article says that recruiters don't do? We do. We meet people. We take care of them. We provide a social media platform for them to talk to each other and talk to our clients. More importantly we destroy the revenue stream of this nonsense of markups and margins.
"Our services are all paid by subscription so it is a much more valuable service to our clients and talent and which makes us much more free and creative to look after them. We are making a community which works powerfully for the people we represent and look after."
Steve Hutson will be back on Life with Juicy Jaxx in the New Year to talk more about the world of employment and to launch the new iStar app from Superstars. You can listen live via the Colourful Radio website or catch up with Steve's previous appearances on the Superstars You-Tube channel.
Superstars is based on a unique new staffing model that eliminates fees and margins forever. Clients work with Talent Managers to get the best staff for their needs and the Talent get amazing opportunities and the best support and mentoring in the industry.
Superstars' clients include BSkyB, Orange, Infosys and Radical Company with more being added all the time.
To find out more about Superstars' unique staffing model and how it can transform the way you hire staff, contact Steve Hutson - steve (at) homeofsuperstars (dot) com or visit http://www.homeofsuperstars.com