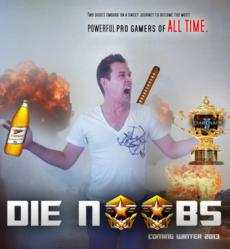 Los Angeles, California (PRWEB) December 14, 2012
Emmy nominated director Erik Cieslewicz to direct "Die Noobs," a documentary portrait of two casual gamers who set their sights on winning a professional gaming tournament. An inside look at one of the world's fastest growing professional sports, "Die Noobs" will feature exclusive insight from some of the top pro gamers across the globe as they attempt to teach a couple of "noobs" how to become masters.
Cieslewicz, a recipient of an Edward R. Murrow Award for investigative journalism, and one of the most respected up-and-coming filmmakers in Washington D.C., will capture the humorous and fascinating journey in a groundbreaking format. Cieslewicz describes his unique vision as "If Rocky and The Office and Reddit made love, it would be this film: accessible, funny and a little geeky."
The heart pounding and hyper-kinetic documentary follows gamers Babyjinx and Anubis, the aliases of the film's two subjects, as they dive head first into expert strategies, touching relationships and immense hangovers. The result will be a rare and highly entertaining study of a fascinating sport. "Die Noobs" will charm fans of films like "King of Kong: A Fistful of Quarters" or "Chasing Ghosts: Beyond the Arcade," by delving into the explosive world of modern eSports and its most popular title: Stracraft 2.
The film will feature a soundtrack of pumping electronic music from YouTube sensation Pin Panelle and other artists that will, according to Cieslewicz, "rip your head off."
"Die Noobs" will leave audiences "laughing hysterically and motivated to win multiple championships."
Slated for release in December 2013.
For more information on the professional gaming documentary, "Die Noobs" please visit the official launch site.