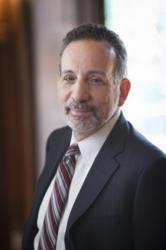 Philadelphia, PA (PRWEB) December 17, 2012
Decades of "preserving the rights of injured motorists" has won Anapol Schwartz managing partner James R. Ronca recognition by the Pennsylvania Association for Justice (PAJ). The president of PAJ presented Ronca with the President Award for Distinguished Service on October 18 at the Soffitel in Philadelphia.
The award recognized Ronca's years of service as a volunteer lobbyist and statutory consultant for consumers in numerous legislative battles. He was also recognized for promoting a law that requires all insurance companies to act in good faith when dealing with their customers.
Upon receiving the award, Ronca thanked the organization for inspiring him, making him a better lawyer, and for always striving to protect the rights of consumers. He also thanked his partners at Anapol Schwartz and his former partners at Schmidt, Ronca and Kramer for facilitating his pro bono work.
Ronca co-authored Pennsylvania Motor Vehicle Insurance, the leading treatise on Pennsylvania auto insurance law. He also argued several important cases before the Pennsylvania Supreme and Superior Courts that resulted in the preservation of injured consumer rights.
A recipient of the Rosenburg Award from the Pennsylvania Trial Lawyers Association in 1986 and the Musmanno Award from the Philadelphia Trial Lawyers Association in 1998, Ronca served as President of the Pennsylvania Trial Lawyers Association from 1991 to 1992. He has held two co-lead counsel positions for national litigation in which more than 3,000 individual cases were filed.
Ronca maintains an active litigation practice throughout Pennsylvania. He represents consumers injured by dangerous prescription drugs and defective medical devices. As an auto accident attorney, Ronca handles complicated motor vehicle collision cases, especially those that involve large trucks and busses.