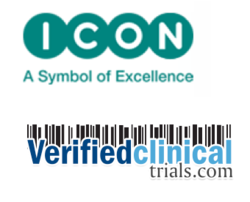 The Verified Clinical Trials volunteer registry allows us to maintain our high standards of data quality and patient safety and improves our ability to enroll qualified research subjects in a timely manner
Garden City, New York (PRWEB) December 17, 2012
Verified Clinical Trials today announced that ICON plc, a global provider of outsourced development services to the pharmaceutical, biotechnology and medical device industries, is using its research volunteer registry in its Clinical Pharmacology units in the US to ensure volunteer safety and clinical data quality.
The Verified Clinical Trials online registry, currently available in the US and Canada, prevents multiple trial enrollment and premature re-enrollment into another study by a research subject. The clinical research database volunteer registry safeguards data integrity and patient safety without delaying the screening process by ensuring that only qualified research subjects are enrolled in a study.
Dr. Mitchell D. Efros, CEO of Verified Clinical Trials, stated "ICON is one of the world's largest and most prominent leaders in the clinical trial business and their adoption of the Verified Clinical Trials registry significantly strengthens our network. By utilizing Verified Clinical Trials, ICON has further demonstrated its commitment to providing high quality clinical research data. Verified Clinical Trials continues to partner with many of the world's largest CROs and pharmaceutical companies in the world."
"Simultaneous study enrollment places the health of the volunteer at risk and may compromise the integrity of clinical data," commented Mario Rocci, President, ICON Development Solutions. "The Verified Clinical Trials volunteer clinical research database registry allows us to maintain our high standards of data quality and patient safety and improves our ability to enroll qualified research subjects in a timely manner."
ICON will use the Verified Clinical Trials volunteer registry in its Clinical Pharmacology units located in San Antonio, Texas and Omaha, Nebraska.
About Verified Clinical Trials
Verified Clinical Trials is a forward thinking company developed by experts in the clinical research community to proactively improve research subject safety and data quality in clinical research trials. Verified Clinical Trials halts dual enrollment in clinical trials and defines itself as the world's leader in the field of database registries in clinical trial research. Verified Clinical Trials is the only clinical research database registry that is fully web based and designed specifically to enhance the quality of both early and late phase trials and has the scalability to reach all sites nationally and globally. Verified Clinical Trials is a HIPAA- and 21 CFR part 11- compliant online subject registry to anonymously and securely validate subjects and prevent dual enrollment in multiple concurrent research studies. Verified Clinical Trials offers numerous other value-added services to the clinical research site, CRO, and pharmaceutical sponsor, that prove invaluable with regards to financial and legal issues and liabilities. For more information, RSVP or visit verifiedclinicaltrials.com.
Media Contacts
Verified Clinical Trials
Kerri Weingard, Chief Operating Officer, Verified Clinical Trials
Tel: +1 516 998-7499
KWeingard(at)verifiedclinicaltrials(dot)com