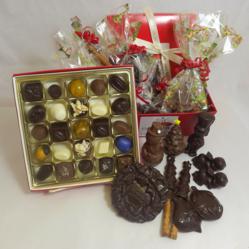 Norwalk, CT (PRWEB) December 17, 2012
With the holiday season close at hand give the gift everyone loves, chocolate! At Chocolate Rain Shop, they produce an array of handmade, fresh holiday confections for their gift baskets which are the best in Fairfield County. Gift baskets can include a selection of gourmet chocolate covered caramel apples, cookies, dipped fruits and pretzels, all delightfully decorated for the holidays and reasonably priced to fit everyone's budget.
This season they are introducing a new variety of specialty chocolate truffles such as eggnog, spicy cayenne pepper, or pistachio in addition to the traditional truffles. Visit the store today and enjoy a cup of extra rich hot chocolate with marshmallow, spicy hot chocolate or specialty coffees to cheer up the dreary winter days as you make your holiday gift choices.
About the company:
Chocolate Rain Shop, located at 69 Wilton Ave, Norwalk, CT 06851. They offer a wide variety of handmade chocolates, chocolate gift baskets, popular French Macrons, Petit Fours, pastries and cupcakes at their cozy shop where patrons are welcome to sit and enjoy a cup of gourmet hot chocolate or coffee. For more information, please visit their website at http://www.chocolaterainshopct.com or call (203) 295-4621.