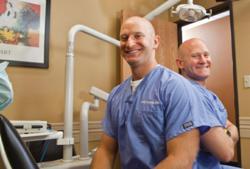 Keeping proper dental habits now can save patients lots of unneeded pain and expenditures down the line.
Austin, TX (PRWEB) December 18, 2012
"Keeping proper dental habits now can save patients lots of unneeded pain and expenditures down the line." said Dr. Chad Denman, Austin dentist/ Round Rock dentist and owner of Family Tree Dental Group. "How you treat your mouth has a ripple effect on the rest of your body too. Resolve to make better oral healthcare choices, and your body will thank you."
As 2012 comes to a close, many of us reflect on the previous year to determine how we can improve ourselves in the months ahead. The most common type of resolution involves physical improvements – weight loss, exercise, eating habits, etc. It's key to remember that resolutions involving oral healthcare can make a vast difference in your dental health and also your overall well-being.
Add these 12 dental resolutions to your list for 2013:
1. Eat healthy. Good nutrition is an important part of proper oral healthcare. Sweets and the sugars they contain make us predisposed to tooth decay.
2. Drink healthy. The best thing you can drink for your mouth (and your entire body) is water. Sipping on sports drinks and sodas is harmful to your teeth – the acids and sugars wear down the enamel and lead to tooth decay.
3. Stop chewing on hard items. Cracked teeth are no fun. Chewing on things like ice cubes, pens, hard candies, even finger nails can chip or cause tooth damage.
4. Stop smoking. Smoking is a danger to the entire body, but its side effects are often readily apparent in the mouth. Smoking can lead to bad breath, yellowed teeth, stained teeth, periodontal disease and oral cancer.
5. Brush twice a day. Brushing is essential to remove plaque from the tooth surface so it won't harden into calculus. Resolve to brush in the morning and before bed – every day.
6. Floss daily. There is no other way to remove the plaque from between your teeth that the toothbrush can't reach. Worried about bleeding gums? This means your gum-line is tender; but the more you floss, the tougher your gums becomes.
7. Fluoride. Using a fluoride toothpaste or mouthwash is proven to help strengthen teeth and prevent decay.
8. Mouthwash. For those particularly prone to plaque, an antimicrobial mouth rinse is a great help. It also helps kill those bad breath germs that brushing alone doesn't always get.
9. Change your toothbrush. Depending on what type of toothbrush you use, you should change it out every three to six months.
10. Visit your dentist. Regular dental appointments (at least twice a year) are vital for good oral healthcare. The dentist can see things you can't, and visiting him or her regularly may help pinpoint problems before they balloon out of control – saving you pain, time and money.
11. Don't forget the kids. If you're a parent, don't forget that your kids haven't fully developed good oral healthcare habits yet. In fact, they may be downright opposed to brushing and flossing. Monitor them regularly, and try using kid-oriented toothbrushes and toothpastes to keep them interested in brushing.
12. Smile! It's a proven fact – when you smile, you're happier … and the people around you are happier too. Smiles are contagious – spread the joy!
Family Tree Dental Group was founded in 2011 by Austin dentists- Round Rock dentists and identical twin brothers Drs. Chad and Shelby Denman to provide high quality dental care in a state-of-the-art environment with careful attention to detail and deep personal respect. Family Tree Dental Group helps maintain the oral health of patients of all ages and cares for all dental needs under one roof. For more information, call (512) 458-5999 in Austin, (512) 310-3999 in Round Rock, or visit http://www.FamilyTreeDentalGroup.com.