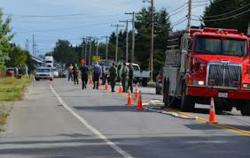 The NHTSA noted that motorcycle deaths also rose 2.1 percent this year, making 2011 the 13th out of 14 previous years to see an increase in motorcycle fatalities
Sacramento, CA (PRWEB) December 14, 2012
According to the National Highway Traffic Safety Administration, figures on total vehicle fatalities for 2011 are now available. These deaths dropped to their lowest numbers since 1949 overall, but there were sharp increases in deaths for bicyclists and occupants of large trucks.
Bicycle riders suffered fatalities at a rate 8.7 percent higher than in previous years, and large truck occupants suffered death rates 20 percent higher. However, overall traffic fatalities dropped by 1.9 percent to 32, 367. The overall fatality rate dropped to 1.10 deaths per 100 million miles traveled, the lowest rate ever recorded by the NHTSA.
Experts believe that the number of miles traveled may have had an impact on the decreased death rate, with motorists driving 1.2 percent less in 2011 than in previous years. Similarly, the increase in bicycle deaths may be reflective of more people using bikes to get to work and school or to ride for pleasure. Many people are choosing to move away from gasoline power both to save money and to lessen the impact on the environment. In Washington, D.C., there has been a 175 percent increase in the number of bicyclists recorded during rush hours.
However, the increase in deaths for large truck occupants is more difficult to explain. More trucks may be on the road as the economy continues to improve, but it may also be because of increased speed limits or more stress on drivers to meet tighter deadlines.
The NHTSA noted that motorcycle deaths also rose 2.1 percent this year, making 2011 the 13th out of 14 previous years to see an increase in motorcycle fatalities.
John Demas of Demas Law Group notes, "It is very difficult to determine firm one year's data if a trend is beginning, even when comparing that data to previous years. Some years there are simply more accidents than in other years for unknown reasons. However, deaths from large truck accidents, bicycle fatalities, and motorcycle deaths are definitely climbing, so riders and drivers in those categories should be very aware of dangers on the roads and take steps to protect themselves as much as possible."
"While experts may wonder why these trends develop, what is more important is protecting the rights of the victims in these groups. Traditionally, bicycle and motorcycle riders have received very little support when they are hit by another driver. The prevailing attitude seems to be that these riders should get out of the way or risk being hurt. Nothing could be further from the truth, and bicycle and motorcycle riders should have the support they need to hold drivers accountable when they are injured in these accidents."
About Demas Law Group: Demas Law Group is a personal injury firm in Sacramento, California, handling all types of vehicular accident cases as well as other forms of personal injury such as dog bites, nursing home abuse, slip-and-fall cases, and product liability issues.
Source: Fox News, "Auto deaths down overall, up for big trucks," Dec. 11, 2012