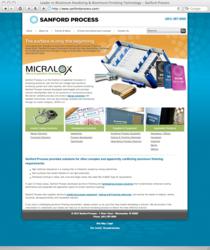 We are excited about the launch of our new website, as it will appropriately represent the high quality of products and solutions we provide at Sanford Process.
Woonsocket, RI (PRWEB) December 18, 2012
Sanford Process Corporation, a leading provider of hard coat anodizing solutions and innovations, announces the launch of its new website. Sanford Process provides custom designed solutions for often complex aluminum finishing requirements. Leveraging four decades of aluminum anodizing and aluminum finishing experience, Sanford Process solves the most demanding challenges for anodizing aluminum through a range of proprietary technologies and development tools. Sanford Process develops aluminum finishing and hardcoating process solutions that fundamentally enhance coating performance and expand the application space for anodic aluminum coatings. Sanford Process also supplies aluminum anodizing process equipment and coating and finishing chemicals that serve the needs of medical, marine, industrial, aerospace/marine and household markets.
Sanford Process' new website is easy to navigate and offers quick access to important information about the company and its products. The website also boasts a modern look and feel with its bright and colorful design. According to Jack Tetrault, President of Sanford Process, "We are excited about the launch of our new website, as it appropriately represents the high quality of products and solutions we provide at Sanford Process." Furthermore, the website has been divided into specific sections which can be easily found through the newly designed navigation bar, ensuring a user-friendly experience.
Sanford Process is at the forefront of patented innovation in anodizing aluminum, having developed the first low voltage aluminum hard anodizing system and more recently a micro-crystalline anodizing process. MICRALOX® produces a long-lasting, virtually indestructible surface that delivers dramatically superior chemical corrosion resistance and eliminates color fading resulting from super-heated steam sterilization. Sanford is also the developer of SANFORD PRINT®, a permanent marking achieved by embedding ink deep into an aluminum hard coat. Sanford Process licenses technologies and provides contract development work on an exclusive or non-exclusive basis. Sanford delivers validated process and product design solutions with detailed operating instructions, and can also arrange complete part processing through our sister company, DCHN LLC (http://www.d-chn.com). For more information visit the company's new website at http://www.sanfordprocess.com.
Sanford Process Corporation is part of the metal finishing division of Katahdin Industries Inc. Katahdin provides high tolerance coating applications and specialized metal finishing technology and services to the medical device and industrial markets through platform-focused subsidiaries. Katahdin's coating operations are conducted through Precision Coating Company, Inc., one of the largest plastics coating applicators in the world, specializing in PTFE and Teflon® coating applications in the medical device market, and Medi-Solve Coatings, LLC , a provider of lubricious coatings to medical device companies. A separate co-located company, Precision Fabric, is a worldwide distributor and converter of PTFE coated fabrics, tapes and belts. Specialized metal finishing services are conducted through DCHN, LLC, an industry leader in technical aluminum anodizing, electro-polish and passivation, and other related services.