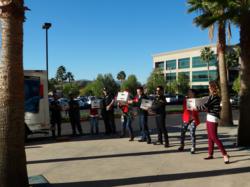 Valencia, CA (PRWEB) December 21, 2012
With a reputation for charity, Scorpion Design has once again found a way to give back to their local community this holiday season. Throughout the month of December, they held a canned food drive with proceeds to go directly to the SCV Food Pantry, which is open only to Santa Clarita Valley residents. In an effort to get everyone involved, they decided to go big – turning it into a company-wide competition. Everyone was split into different teams with the prize going to the team who was able to bring in the most donations.
Competitive by nature, Scorpion employees quickly scoured through and emptied out their own cupboards; they, however, were not satisfied and turned to family, friends and local neighborhoods to help. Teams of coworkers drove throughout the Santa Clarita Valley to solicit donations from neighbors, clubs, churches and other groups and associations. In the end, they were overwhelmed by the response that they received.
"My team has been getting our friends, family and local neighborhoods involved with the drive," said Vice President of Sales Brandon Wheeler. "We have gone door-to-door and, to all of our surprise, we've gotten some very warm and welcoming comments, such as 'I am so happy you are doing this, I didn't know people still did canned food drives anymore.' People are willing to give, but most just don't know how or where to start, so this has given many people an outlet to give back this holiday season."
From dentists donating toothbrushes to local families filling up boxes, the canned food drive was an overwhelming success. In fact, Scorpion ended up needing to rent a U-Haul truck to fit all of the boxes – with the final count coming to more than 12,000 canned goods and toiletry items. Shortly after the work day started on Thursday, December 20, coworkers created an assembly line from the office to the U-Haul outside to load the dozens of boxes into the waiting truck. At the end, the truck was packed from top to bottom.
"We have such an amazing group of people here at Scorpion who put others first so often," said Wheeler. "Every chance we get to have a fun game that helps the community, or someone in need, I know we can count on the team here at Scorpion to go above and beyond. I am so blessed to work with so many wonderful, giving people and I hope we will need a semi-truck to carry all of the food next year!"
This donation is just one of the many outreach efforts made by Scorpion, who has proudly started their charitable Scorpion Cares program this year. Throughout the year, Scorpion Cares makes monthly efforts to donate to various organizations and needy families. They already have several outreach efforts in the works for next year, and with the considerable success of this canned drive, plan to do it again next holiday season.
"Scorpion is all about giving back – we make it a way of life," said owner and CEO Rustin Kretz. "Throughout the year we make numerous efforts to help the local and national community in every way we can; we've donated to countless charities, helped support a little boy and his family in need and even adopted an entire family last Christmas. This canned food drive is just one of the ways that our team rallies together to help. We hope to continue giving back & show how much we truly care."
Scorpion Design, Inc. is an Internet marketing and website design company, primarily focused on helping lawyers and law firms throughout the nation. By pairing award-winning designs with cutting-edge technology, along with SEO and marketing expertise, they have been able to help countless attorneys establish a successful online presence throughout the years. To learn more about how they can help take a business to the next level, please visit them online at http://www.scorpiondesign.com.