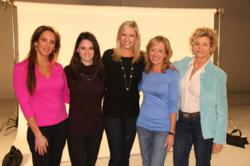 Boston, MA (PRWEB) December 18, 2012
She's Game Sports, a new media company dedicated to the female pro sports fan, is beginning a "crowd funding" campaign on December 14, 2012 on Indiegogo, a national crowd funding platform at http://www.indiegogo.com/ShesGameSports. Funds raised by the public campaign will be used for continuing website design and development for their website http://www.shesgamesports.com.
"We're extremely excited about this campaign," said Alice Cook, the founder and president of She's Game Sports. "We look at it as a terrific and innovative way not only to raise capital, but also to give people the opportunity to get involved with She's Game Sports from the start."
"Since we launched http://www.shesgamesports.com earlier this year, the response has been phenomenal," said Cook. "Even more than the volume of hits, the enthusiasm and passion of everyone reaching out to us, whether on Boston.com, on Twitter, or on our own website, has really validated our concept and everything we believe about women who love sports."
In exchange for contributions, She's Game Sports is offering some unique perks on the funding site: sports merchandise, tickets, private tours of the Boston Garden and Fenway Park, and dinners with sports celebrities, including Kathryn Tappen. Tappen, the host of NHL Tonight for the NHL Network and former studio host for Bruins games and SportsDesk anchor at NESN, is a She's Game Sports partner and contributor.
In addition, to Cook and Tappen, the She's Game Sports team includes Lydia Hatton Everett, chief executive officer, who has worked at NBC in New York and Continental Cablevision/Media One in Boston, and Laurie Miller Voke, vice president of sales, a very successful 'rainmaker" at the Boston Garden in sports marketing, CFO Martin Kelleher, former CFO of Monster.com, and a powerful group of industry advisors.
Women are not only watching sports in record numbers -- they also do 80% of the household shopping, a fact that is not lost on the She's Game Sports team. Alyssa Milano's "Touch" is a very successful clothing line featured at the company's first advertiser, ROSTER Stores. "We think She's Game Sports will become the biggest and best forum in the country for women to discuss sports and sports lifestyle with each other," said Cook. "Its more than a place for women to get news about sports. It's a sports marketplace for merchandise, fashion, personal interest stories, deals, tickets, health and fitness information, travel packages and more."
She's Game Sports is pioneering new territory in the world of sports media, and will launch its new website in early Spring of 2013. For information on She's Game Sports and to earn unique perks by joining it's crowd funding campaign, visit http://www.indiegogo.com/ShesGameSports.
About Indiegogo
The international crowd funding site, http://www.indiegogo.com, was founded in 2008. It has hosted over 100,000 funding campaigns. Indiegogo is a not only a crowd funding platform where people who want to raise money can create fundraising campaigns to tell their story and get the word out. It is also a place to discover what people all over the world are passionate about and how to get involved.
Contact: Lydia Everett, leverett(at)shesgamesports(dot)com 617-285-6730