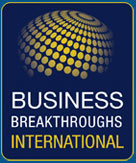 Now we can offer our clients an even more cohesive and powerful experience, as the development of their Core Story and our world-class consulting and coaching services will be tightly intertwined
(PRWEB) December 17, 2012
Business Breakthroughs International (BBI), a Tony Robbins and Chet Holmes company, today announced that it has wholly absorbed the operations of Empire Research Group, which will now operate as BBI's Core Story Division. Through this business restructure, Business Breakthroughs will be able to offer its clients greater access to powerful statistics and research to help build their businesses, as well as provide them with a seamless Core Story and consulting experience. To help demonstrate to its clients the benefits of this announcement, BBI is providing companies who purchase a Core Story before Dec. 28th the Ultimate Core Story Package, which includes three months of complimentary coaching (a $9,900+ value). Companies will also be entered to win the Ultimate Business Mastery System, valued at $4,995, by following BBI and the Core Story Division on Twitter and Facebook.
"From a business perspective, it made sense for BBI to assume the operations of Empire Research Group, since their project managers and researchers were already working so closely with our high-level consulting and coaching staff," said Marc Pearl, CEO of Business Breakthroughs. "Now we can offer our clients an even more cohesive and powerful experience, as the development of their Core Story and our world-class consulting and coaching services will be tightly intertwined. Companies that sign onto our Core Story services before the 28th will also have the bonus of three months of coaching. This combination of Core Story and Coaching will exponentially improve the effectiveness of their purchase, and provide them with an amazing return on investment."
To further help its clients, BBI's Core Story Division is also making significant investments into technology and it is expanding its research department through new services offered, additional hires and access to more in-depth and hard-to-find data.
With its services, Core Story customers are able to achieve a 2,600% higher success ratio than their competition. The Core Story has been proven to help companies:

Strategically optimize their brand position
Accelerate organizational and industry credibility
Open the door to unprecedented dream client access
Generate the trust and rapport critical to landing deals that seem to close themselves
Convert salespeople to expert status
Business Breakthroughs International offers a wide variety of products and services to help businesses to grow and prosper in any industry or economic climate.
Connect with Business Breakthroughs International via LinkedIn and Facebook.
For more information, please contact:
Craig Sowers
Business Breakthroughs, Client Services Division
Operations: 888-253-8497
Email: corestory(at)businessbreakthroughs(dot)com