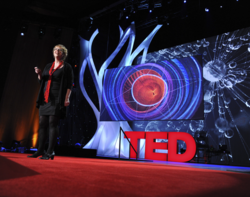 I try to imagine my goal as a reality and then work backwards to figure out all the steps I need to take to make it so.
Brookline, MA (PRWEB) December 14, 2012
Studio Echelman announced that beginning this weekend, The Huffington Post features Janet Echelman, her TED Talk and accompanying new article to headline their curated TED weekend program themed "Imagination Innovation."
The TED has teamed up with The Huffington Post to create TEDWeekends, a custom-designed weekend experience. This weekend's powerful "idea worth spreading" is Echelman's "Taking Imagination Seriously" talk.
Echelman created an original article to accompany her talk in which she shares the challenges she was faced with in her journey to achieve her dreams, and how she overcame them to turn imagination into reality.
"I try to imagine my goal as a reality," said Echelman, "and then work backwards to figure out all the steps I need to take to make it so."
The artist invites her audience to become a part of the conversation and contribute their own ideas. This ongoing dialogue and exchange of ideas is a goal of TEDWeekends, which takes ideas from the TED stage and makes them more accessible to the world. This new format lends new context to Echelman's talk, which is estimated to have been viewed by more than a million people worldwide.
The HuffPo recognizes Janet Echelman for creating "a new art form that constantly reshapes itself with the movement of weather, people and city infrastructure." She builds living, breathing sculpture environments that respond to the forces of nature - wind, water and light - and become inviting focal points for civic life.
This week, Echelman's new sculpture installation premiered in Amsterdam suspended from City Hall over the famous Amstel River, a centerpiece for the 2012-2013 Amsterdam Light Festival.
A recent recipient of the Guggenheim Fellowship, Echelman was named a 2012 Architectural Digest Innovator, selected as one of eight global design leaders "challenging received wisdom and conjuring a bold new world."
View full TEDWeekends article: http://www.huffingtonpost.com/janet-echelman/imagination-becomes-reality_b_2296215.html
Follow Studio Echelman on Facebook: https://www.facebook.com/studioechelman
For additional information regarding Studio Echelman's sculpture, contact Melissa Henry, melissa(at)echelman(dot)com.
Studio Echelman
Studio Echelman explores the cutting edge of sculpture, public art, and urban transformation.
###