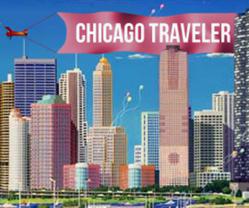 Chicago (PRWEB) December 17, 2012
Whether spending the holidays in Chicago or buying Christmas presents for a frequenter of the Windy City, it's not always easy to decide exactly what to get everyone for Christmas. This year, find gifts unique to Chicago for everyone on the list.
Bulls Tickets
The Chicago Bulls have home and away games through April. Surely the Bulls fan in the family can find time for their favorite team between the holidays and then. If not, the Chicago Cubs start playing again in April, and tickets are already available for them, too.
Chicago Tour Gift Card
Many of the best tours in Chicago offer gift certificates for tours that last for over a year. If someone is already planning a trip to Chicago then they'll surely be able to use it then, or maybe this can be a reason to visit. (Find a deal to make it even cheaper, and they'll never even know.)
A Museum Membership
For Chicago locals (or frequenters) who just love meandering in museums, an annual museum membership might go far. For museum lovers that don't visit Chicago more than once a year or so, the Chicago Museum Pass includes admission to four famous museums in Chicago. Not only is it a great gift for them, but the pass also saves the gift-giver 25% on the total cost for all 4 museums.
Show Tickets
If there's a band playing in Chicago over the next few months, ChicagoTraveler.com knows about it, and has tickets at the ready. There are also tickets for local theatres, sports and events anyone would be grateful for. Chicago has a great comedy scene, and places like the Laugh Factory, the Second City and The ComedySportz Theatre offer tickets for shows in advance. If there isn't a show soon enough, most of them also sell gift cards.
A Chicago Food Tour
One of the best things to do in the Windy City is eat, and there are tons of food tours in Chicago to choose from, whether it's exploring the wonders of Chinatown or going backstage at some of the most famous pizzerias in the city. Not in town to take them out to eat? Give them a meal to cash in on next time they're here. Speaking of tons... the Silversmith offers a great food tour package for a Chicago Getaway, and they have a 24-hour fitness center in case things get a little out of hand (but still well into the belly) during the meals.
Local Chicago Brews
Give the taste of Chicago!

North Store Distillery just released the Silver Lining, and a limited release local spirit that's only been on the market since October makes for a unique, but useful and delicious, holiday gift.
The Holiday ale this year by Revolution Brewing in Avondale. Another cool thing this brewery has done lately was the beer they made with hops grown at the Shedd Aquarium. What a delicious way to take a little piece of the aquarium home.
Half Acre Beer Company sells their beers by the can, in a growler or a keg if someone's been extra nice this year. The Daisy Cutter Pale Ale is always a favorite.
The Gift of Peace
Visiting family in Chicago over the holidays? The house gets pretty crowded when everyone's there, but MileNorth Hotel offers the Gift of Peace package - a discounted rate just for these special occasions. Give out-of-town guests (or Chicago residents) the gift of a quieter, slightly less chaotic Christmas. MileNorth Hotel is offering 20% off, with rooms as low as $111 a night with the Gift of Peace through January 31st. Have the whole family in town, and enough room for everyone to stay for once.
There are quite a few great gifts unique to Chicago, perfect for the nostalgic traveler, Chicago native or even someone planning an upcoming trip to Chicago.
About ChicagoTraveler.com:
Chicago is one of the top vacation destinations in America famous for their annual events, popular foods, architecture and top sports teams. ChicagoTraveler.com guides travelers to all the best things to do, top places to eat and deals on the best places in Chicago to stay.