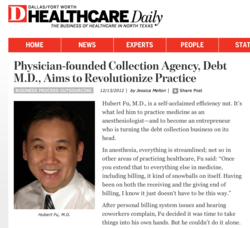 Dallas, Texas (PRWEB) December 18, 2012
Dallas Healthcare Debt Collection Agency Debt M.D. was recently highlighted in a D Magazine article for its unique and innovative approach to healthcare debt collections.
The article describes the technology-driven vision Dr. Hubert Fu has for his healthcare collections agency, along with the patient-centered practices he believes will result in better patient-provider relationships and increased ROI for Debt M.D.'s clients.
"We are very excited that one of Dallas's biggest publications is helping to tell our story," said Fu, a Dallas anesthesiologist. "The reception and buzz surrounding Debt M.D. in the Dallas/Fort Worth area has been quite noticeable, and we're extremely pleased with the positive response from the healthcare community."
The D Magazine article also highlights the fact that Debt M.D. is believed to be the only healthcare collection agency in the U.S. owned and operated by a practicing physician.
"We believe Dr. Fu's experience as a practicing anesthesiologist and many years in the healthcare industry gives us a tremendous advantage in making healthcare collections," said Debt M.D. COO Aryn Manning. "He (Dr. Fu) understands the doctor-patient relationship and has seen firsthand the reasons behind people failing to pay their medical bills or falling behind on payments."
Debt M.D.'s mission and guiding principle was also a major focus of the article.
"Treating people humanely and with respect, we believe, is the only way to successfully get patients to pay their bills," Dr. Fu said. "People do not plan on going into debt for medical reasons, and when you work with the patient to understand their situation, a reasonable payment solution can usually be found."
ABOUT DEBT M.D.
Founded by Dr. Hubert Fu, Debt M.D. is a healthcare debt collection agency based in the Dallas/Fort Worth that serves healthcare clients across the U.S.