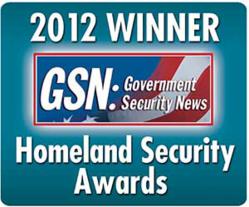 We do it better, faster and often for millions of dollars less than the competition across the life-cycle of the product requirement
Chatham, New Jersey (PRWEB) December 17, 2012
At a gala dinner that drew hundreds of government officials and industry executives to the Washington Convention Center on November 29, Government Security News announced the winners -- including The United States National Guard -- in 42 different categories in its 4th Annual Homeland Security Awards competition.
In the Most Notable Emergency Response Implementation category, GSN identified The United States National Guard as a category winner. All winners were honored at a festive banquet GSN hosted in a ballroom of the Washington, DC Convention Center.
One of the highlights at the dinner was the presentation of the GSN / Raytheon Award for Distinguished Leadership and Innovation in Public Safety and Security to Richard Reed, Deputy Assistant to the President for Homeland Security. Reed delivered an insightful keynote address to an audience of industry executives and government officials at the federal, state and local levels.
The winners were selected by a panel of objective judges, according to Jacob Goodwin, Editor-in-Chief of Government Security News. "We received an outstanding group of entries and have handed winners' plaques to an exceptional group of companies and government agencies," said Goodwin.
"The U.S. Secretary of Defense (SECDEF) has mandated that all DoD agencies shall implement an emergency mass notification system prior to a 2014 deadline. Currently, worldwide the vast majority of U.S. Army installations benefit from the use of our award winning mass notification technology every day. For example: Fort Gordon 7th Signal uses our system daily with highly positive and documented results. The U.S. Army along with FEMA and the National Guard will meet the 2014 requirements ahead of schedule. The entire Desktop Alert team continues its goal and commitment to ensure that all branches of the U.S. military, government and homeland security sectors complete their SECDEF mass notification mission requirements ahead of schedule and with firm-fixed cost capabilities," said Howard Ryan, Desktop Alert Founder.
The National Guard of the United States is a reserve military force composed of National Guard militia members or units of each state and the territories of Guam and the Virgin Islands plus the Commonwealth of Puerto Rico and the District of Columbia (54 organizations) under federally recognized active or inactive armed force service for the United States.
The Air National Guard (ANG), often referred to as the Air Guard, is an air force militia and a reserve component of the United States Air Force. Air National Guard organizations are organized by each of the fifty U.S. states, the commonwealth of Puerto Rico, the territories of Guam and the U.S. Virgin Islands, and the District of Columbia of the United States. Each state, the District of Columbia and the commonwealth of Puerto Rico each have a minimum of one ANG flying unit with either assigned aircraft or aircraft shared with a unit of the active duty Air Force under an "Associate" arrangement. The ANG of the territories of Guam and the Virgin Islands have no aircraft assigned and perform ground support functions. Air National Guard activities may be located on active duty air force bases, air reserve bases, naval air stations/joint reserve bases, or air national guard bases and stations which are either independent military facilities or collocated as tenants on civilian-controlled joint civil-military airports.
Desktop Alert customer, Fort Hood is one of the largest United States military installations in the world, and is the home of III Corps, 1st Cavalry Division, 13th Sustainment Command, First Army Division West, 3rd Armored Cavalry Regiment, 41st Fires Brigade and many other corps and echelons above corps units.
Fort Hood consists of three sections: the main cantonment, West Fort Hood, and North Fort Hood. The main cantonment is bounded by Killeen on the east and Copperas Cove on the west. The Fort Hood main cantonment area, otherwise referred to as Main post, holds its own airfield, Hood Army Airfield. North Fort Hood is bounded by Gatesville to the northwest. West Fort Hood, bounded by Killeen and Copperas Cove, includes Fort Hood's second airfield, Robert Gray Army Airfield, which has been expanded for civilian use (Killeen-Fort Hood Regional Airport (GRK)). To the east and southeast, the reservation is bounded by Harker Heights, Nolanville, Belton, and Morgan's Point Resort.
"Our team of world class mass notification engineers have proposed a new standard for mass notification alerting within the Department of Defense. That proposed standard is 15 seconds or less for 99% of all IP-Based alerts published and received. This is more than a proposed standard. This is documented by our DoD customers as a daily desktop alerting delivery rate reality. Our engineers eliminated over 90% of the bandwidth other systems normally require to publish and send the alert. This accomplishment is unrivaled industry-wide and something that we are very proud of at Desktop Alert. We do it better, faster and often for MANY millions of dollars less than all known and approved DoD vendors across the life-cycle of the product and service requirements," added Ryan.
Desktop Alert customer, the Army's 7th Signal Command is responsible for the integration, security and defense of the Army LandWarNet within the Continental U.S. (CONUS). The 7th Signal Command is designed to extend LandWarNet capabilities to generating and operating forces in support of CONUS-based information-enabled expeditionary operations. The command is one of five theater Signal Commands worldwide, and is a subordinate element of NETCOM/9th SC (Army) at Fort Huachuca, Ariz.
Desktop Alert customer, Fort Huachuca is a United States Army installation under the command of the United States Army Installation Management Command. Fort Huachuca is also the headquarters of Army Military Auxiliary Radio System (MARS). Major tenants are the NETCOM/9th Signal Command (A) and the United States Army Intelligence Center. Other tenant agencies include the Joint Interoperability Test Command (JITC), Information Systems Engineering Command (ISEC) and the Electronic Proving Ground.
The Desktop Alert System has also attained the high honor of being selected and centrally deployed at FEMA Headquarter locations nationwide as well as NORAD/Northern Command.
About Desktop Alert: http://www.desktopalert.net
Worldwide U.S. Military organizations such as U.S. Northern Command, The United States National Guard, The United States Air Force Academy, The United States Military Academy at West Point, Multi-National Forces in IRAQ, The U.S. Air Force, The U.S. Army now utilize the Desktop Alert mass notification platform daily for their organizations emergency communication requirements. Desktop Alert can contact thousands of users with desktop alerts and require receipt confirmation of the message. Those not verified can then be listed on a report and/or sent as a "Target Package" to be automatically contacted by other means such as email, SMS, phone calls and other devices.