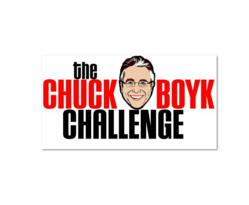 Toledo, Ohio (PRWEB) December 14, 2012
The Chuck Boyk Challenge is highlighting local charities by asking citizens to vote for their favorite organization. The top 3 charities with the most votes will win cash prizes totaling $5,000. Attorney Charles Boyk Announced 3 of the 15 charities that are participating. Here are the first three charities participating in the Chuck Boyk Challenge:
1. Family Outreach Community United Services (FOCUS)
Founded in the traditions of faith and service, Family Outreach Community United Services (FOCUS) is a community based agency called to embrace people in need, bring voice to the voiceless, and restore hope and dignity to the forgotten. In 2011, FOCUS provided housing to over 130 families, including nearly 250 children, at a cost of $13 per person per day. In addition, our Front Door Ministry provided emergency food and service referrals to another 6,800 individuals.
2. Feed Lucas County Children, Inc.
Feed Lucas County Children, Inc. (FLCC), founded in 2002, combats child hunger in Lucas County. They are neither a food bank nor a food pantry; rather, they actually prepare meals for children. FLCC offers free, hot balanced meals seven days a week to children whose family income falls below the poverty level.
3. Gliding Stars of Greater Toledo
Gliding Stars, Inc. was originally founded in 1994 by Elizabeth M. O'Donnell. Ms. O'Donnell is an accomplished figure skater who turned her talents toward providing an extensive program of adaptive ice skating for people of all ages and challenges. She did this so that they could experience a part of normal life and the life-changing effects of regular exercise, social interaction, teamwork, family sharing, and a few hours of fame during the end-of-season Ice Extravaganza performance!
There are 12 more charities involved in The Chuck Boyk Challenge. A full list of the charities involved can be found at http://www.thechuckboykchallenge.com