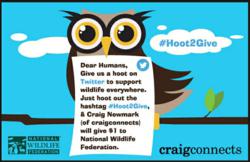 Join us in having a bit of fun appreciating owls. Tweet your favorite photos or videos, share stories, articles or your best owl pun, and help honor owls this holiday season.
Reston, VA (PRWEB) December 17, 2012
In the spirit of holiday giving, Craig Newmark of craigconnects is helping to raise money for the National Wildlife Federation with a new #Hoot2Give campaign. For every bird photo, story or tweet tagged with #Hoot2Give, Newmark has promised to give $1 to NWF, up to $5k.
To help get the word out, NWF is asking people to share the following tweets:

Will you #Hoot2Give this Holiday season? @craignewmark will donate $1 to @NWF if you hoot! http://bit.ly/12pyTi3
Have any great owl puns to share? Tweet them using #hoot2give and we'll include them in a blog post.
Owl facts and photos worth hooting for: #hoot2give http://blog.nwf.org/2012/12/hoot2give/
For those looking for inspiration, NWF has several HOOT-a-rific resources:

The fundraising campaign will run through the holiday season. You can give a hoot on Facebook, Twitter (@NWF and @craignewmark), and Craig's #Hoot2Give Pinterest board.