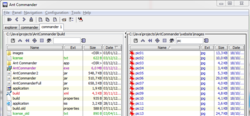 Ant Commander is providing a free alternative to the standard file manager
Amsterdam, The Netherlands (PRWEB) December 16, 2012
Japplis has just released a new version of the file manager Ant Commander with more than 60 improvements.
This new 3.0 version comes with a new redesigned website, easier and faster ways to access files or directories and a better integration with Windows, Mac OS X and Linux.
Everybody is using a file manager on his computer. Whether the pre-installed Windows Explorer for Windows or Finder for Mac OS X. The fact is that people spend a lot of time using the file manager, for example to find a document or to perform file operations like copy or rename. Ant Commander is providing a free alternative to the standard file manager in order to navigate faster to the correct directory.
It contains a smart history where only directories where the user stays a certain time are recorded in the history. There is no need to go back and forth between directories or open several windows, Ant Commander has support for tabs. Finding a file in a directory containing a lot of files is done by typing a part of the file name in a filter field.
Ant Commander works on Windows, Mac OS X and Linux.
Ant Commander can replace a lot of tools such as a FTP client, a compression tool, a secure copy (SCP) tool or an application launcher. Ant Commander can access several file systems out of the box, such as zip files, jar files, tar files, ftp, sftp, ftps, WebDAV, Samba, ISO or HTTP.
File systems can be nested. For example the user can view a text file included in a jar file, itself included in a zip file on a FTP server.
This new version includes better operating system support. Windows 8 is now supported. Delete to recycle bin for windows and to trash for Mac OS X has been fixed.
Opening files is been improved especially for files including special characters such as Russian, Chinese or Japanese.
Also the Linux support has been improved. The application is easier to start up and the correct console will be started if needed.
Several improvements have been added to the image viewer and thumbnails panel. In the thumbnails panel, images smaller than the thumbnail won't be resized and it's easier to open the selected images in an external viewer or editor. In the image viewer, resized images have a better quality and large images will automatically fit to the screen.
File managements itself has been improved with a better password management and support for the FTPS protocol (FTP over SSL). Also several bugs related to the file management have been fixed.
For this new release, Japplis has redesigned the entire website with a more modern design and an easier possibility for the users to provide feedback. A demo video is now available on the website.
Ant Commander relies on open sources libraries which have been updated and that contain by themselves a lot more improvements and bug fixes.
Ant Commander is free and can be downloaded at http://www.antcommander.com/
About Japplis:
Japplis is a company created in 2008 by Anthony Goubard in Amsterdam, The Netherlands.
Japplis is specialized in the development of online applications such as online dictionaries, photo editor, text-to-speech and other online utilities.