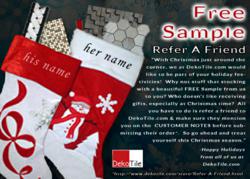 Los Angeles, CA (PRWEB) December 20, 2012
One of the surest ways to improve the look of a home and increase its value is by replacing the drab floor with a new set of tiles from DEKO Tile. The best way to initiate a floor remodeling project is with a tile sample. A sample piece of flooring lets a homeowner see firsthand what the finished product looks like. This holiday DEKO Tile is running a special promotion for all its returning customers: Refer a Friend and receive a free tile sample.
New DEKO Tile customers are encouraged to include the name of their friend who referred them when placing an initial order. By doing so, their friend will receive a coupon via email entitling them to a free sample on DekoTile.com.
For over twelve years DEKO Tile has established itself as a popular distributor of imported flooring and wall tiles. Their catalog offers a wide array of distinct tiles in a variety of design patterns and colors. There are new additions and weekly Hot Items available for online customers. Homeowners and professional decorators turn to DEKO Tile to transform homes, businesses and apartments into elegant reflections of themselves. As no two remodeling projects are alike, DEKO Tile understands the importance of picking the perfect tile. With the samples provided by DEKO Tile through their Refer a Friend promotion the right floor choice can be made effortlessly.
All the tiles sold by DEKO Tile are made from durable materials and are available for borders, decorative inserts, pavers, sinks, moldings, and pool copings. The Mosaic Field Tiles are among the top sellers at DEKO Tile. With amazing products to choose from, these mosaics can be the quintessential finishing touch to any environment. Whether for the kitchen, bathroom, foyer or outdoor pool area, DEKO Tiles are guaranteed to please.
About DEKO TILE: DEKO Tile is one of the largest direct importers of flooring and wall tiles. DEKO Tile was founded in 2001, with a focus on natural stone products. Over time, we expanded our product portfolio to include glass, metal and other materials. Our mission has been to provide the trade professionals and do-it-yourselfers with high-quality flooring and wall covering products at affordable prices. We strive to achieve this mission by cutting the middleman and supply these products directly to the end users.
For more information contact DEKO Tile @ 310-669-8880.