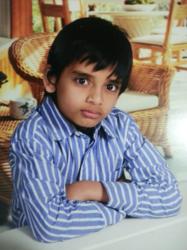 Mr. Mani, CEO & President of Aloha-USA said, "We encourage our centers to use real life situations to enable the students to apply what they learn in their ALOHA classrooms in their schools, and community.
Edison, NJ (PRWEB) December 18, 2012
One of ALOHA-USA's tutoring centers in NJ had students write an essay about their experience of hurricane Sandy. All grade level students, grades 1 through 5, participated. Mr. Mani, CEO & President of Aloha-USA said, "We encourage our centers to use real life situations to enable the students to apply what they learn in their ALOHA classrooms in their schools, and community." Snippets from a few of the thoughtful essays are included below. ALOHA USA provides kids with after school math help and, in 2012 added reading and writing tutoring programs, in almost 150 US locations, in 18 states.
Raj Aasrith, grade 1, wrote about how they lost power after the storm began... "We had dinner in the candlelight. We went to my friend's home for a sleepover. It was so windy and noisy. All night the trees were moving so hard. We didn't have power for five days."
Saanvi Bhuteja, grade 2, wrote about how they prepared for the storm, that they lost power for "a whole week," and that her family stayed at her cousin's house and "had sleepovers" there all week. Once they got power back and were able to go home, they passed along the favor; some of her friends were still without power and stayed over. "It was a big relief on Friday, We got our electricity back. So, we also invited a few of our friends over for dinner and for sleepovers."
Sravani Kotapati, grade 3, her essay starts... "What a terrible storm! Last week, Hurricane Sandy had approached New Jersey. It battered the whole state! Hurricane Sandy was one of the largest hurricanes on record." Her family and neighborhood survived, but she also wrote about how some people lost their homes, but that... "Many people were donating things for the people who lost their belongings."
Kernik Dave, grade 4, gave a detailed description of the approach of the storm, the effects in their neighborhood and how they handled the loss of power. He also wrote that he learned that hurricanes are dangerous and... "I also learnt living without electricity is difficult. We depend on electricity for heating, cooking, entertainment, communications, and etc. Initially it was exciting, but the devastation was terrible."
Khushi Chokshi, grade 5, in addition to talking about the size of the storm, its effects around their house, and that they lost power then stayed at her aunt's house, Kushi also talked about it's effect on adults... "Many people also couldn't go to work since a lot of companies were closed, so it was hard to earn money for the days of work that were missed," although her parents were able to work.
ALOHA USA provides tutoring in unique ways that gives kids life-long skills. For children who need help with math, reading and writing skills, or are falling behind in school, parents can get tutoring help for their children with the unique programs provided by ALOHA-USA.com. The goal of this teacher-led reading and writing program is to inspire children to read and write without difficulty. Their structured program motivates, stimulates young minds, and develops a passion for reading and writing spontaneously. This teacher-led program covers all aspects - from the language arts, to reading and writing. Different styles of writing are introduced at appropriate grade levels. A separate teacher is used exclusively for corrections. Working in very small groups, children get individualized attention and improve rapidly in the program.
About ALOHA USA
ALOHA USA was introduced in the United States in 2006 and today has its presence in over 18 states, 23 countries and 4,200 locations. With the help of the abacus, ALOHA has created a whole new dimension in the field of teaching math and the language arts to young children helping them overcome their fear of arithmetic and numbers. For information, visit http://www.ALOHA-USA.com or contact the nearest ALOHA center to you. Click to find a tutoring center near you and schedule an orientation. For resources on teaching your kids, see ALOHA's blog for kids at ALOHAMath.com.