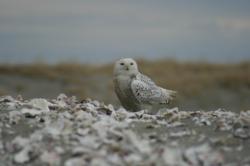 Winter bird watching on the Long Beach Peninsula is truly remarkable!
LONG BEACH PENINSULA, Wash. (PRWEB) December 18, 2012
Reports are coming in of the much-anticipated return of Snowy Owls and snowy white Trumpeter Swans to Southwest Washington's Long Beach Peninsula. These and other "snowbirds" spend the winter on this remote, 28-mile long spit of sand with its numerous, varied habitats.
According to Jackie Ferrier, Project Leader, Willapa National Wildlife Refuge Complex, Trumpeter Swans have been seen in the refuge since late November and are likely also using fresh water lakes such as Loomis Lake and Black Lake, as well as Hines Marsh. Numerous sightings of Snowy Owls are also being reported in the refuge, in nearby forests, at Leadbetter Point State Park and along the beach from the Long Beach boardwalk and north.
"The return of Trumpeter swans to Black Lake each December inspires childlike anticipation among residents and frequent visitors," remarked Andi Day, executive director, Long Beach Peninsula Visitors Bureau. "While Trumpeter Swans have been overwintering in this southwestern-most corner of Washington State for many decades, their arrival still feels like an early holiday gift."
On the other hand, the arrival of Snowy Owls is a relatively new event. According to Ferrier, the winter range of the Snowy Owl historically tends to be more north. In recent years the owl's winter range has extended into southern Washington and Oregon. She notes two reasons: a rise in population or expanded territory for more plentiful food sources.
"Winter bird watching on the Long Beach Peninsula is truly remarkable!" added Day.
Nature and bird observer Suzy Whittey, along with the Washington Ornithological Society, confirmed a recent and very rare sighting by Doug Swanson of a Summer Tanager -- only the third time in Washington since the record has been kept. (Swanson sighted and photographed the bird in Ilwaco.) In addition to owls, raptors and swans, Whittey recommends adding the many shorebirds, including Dunlins, to the winter watch list. More on winter bird watching will be available following the Christmas Bird Count at Leadbetter Point on Dec. 15.
According to the Willapa Hills Audubon Society, additional regional Christmas Bird Counts are slated for Dec. 28 and Jan. 1. For details, please access http://willapahillsaudubon.org/.
Winter Bird Watching on the Long Beach Peninsula
With several distinct eco-systems in a span of 28 miles, the Long Beach Peninsula includes Pacific Ocean seashore and marshland, lakes, inland waterways, wetlands, the Columbia River and Willapa Bay. Hundreds of species of birds migrate here each fall. Winter flocks consist mostly of Sanderlings, Dunlins, Black-Bellied Plovers and a few Western Sandpipers, and a spattering of Marbled Godwits. Peregrine Falcons are numerous and Merlins often sighted. In years' past Snow Buntings have been seen at Leadbetter Point. Numerous sea ducks, grebes and loons can be observed along points on the Cape Disappointment State Park jetty, Coast Guard boat basin/launch and various points along Willapa Bay. Western Screech Owls and Great Horned Owls might be heard calling in the Seaview bluffs. Gulls are numerous, always with the chance of seeing an unusual species. Trumpeter Swans overwinter on Black Lake and Hines Marsh. For updates on winter birding in the refuge, please monitor http://www.facebook.com/willapaNWRcomplex.
With its mix of sensational restaurants, local seafood, ocean-view lodging, colorful festivals, unique museums and attractions, landmark lighthouses, fine art galleries, easily accessible trails, birding spots, state and national parks, and, above all, its long, wide, windswept beach, the Long Beach Peninsula continues to be one of the Northwest's most enjoyable and refreshing coastal destinations.
Located 2.5 hours from Portland and 3.5 from Seattle, the Peninsula is a longtime favorite for those seeking easily accessible outdoors, great food and affordable creature comforts. For more information, please access http://www.funbeach.com or call the Long Beach Peninsula Visitors Bureau at 800.451.2542.