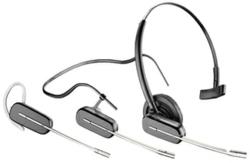 Three wearing styles included over the ear, head and behind the neck band.
Burlingame, CA (PRWEB) December 18, 2012
Both Plantronics and GN Netcom released various product lines that virtually changed the way users communicate in the office and call center. Hands free telecommunication is evolving for the better with positive changes that have recently surfaced within the industry during 2012. The most impressive addition this year include the new multi-function wireless headsets which enable callers to use a single solution for all communication devices. The Plantronics Savi and Jabra Pro models inter-connect to office phone, USB computer and even Bluetooth mobile device simultaneously. Technology in this form is just not heard of but is quickly becoming the new standard in hands free telecommunications.
Some of the key features and benefits that are included with these new wireless headset systems include:
Wireless Mobility: Hands free roaming ranges support between 350 and 450 feet using DECT 6.0 technology.
Safer Ergonomics: There are a variety of wearing styles to choose from to ensure maximum comfort while creating better posture, naturally relieving minor aches and pains. Included are traditional over the head designs as well as over the ear and behind the neck options for more advanced callers.
Simplicity: Users can easily switch between their devices with a touch of a button for toggling from desk phone to computer and even Bluetooth mobile. Select Jabra systems include luxurious LCD touch screen displays for device navigation.
Remote Answering: Answer and end incoming calls remotely while away from the work space, additional handset lifter or EHS hookswitch required.
Plug and Play: Compatible with most office desk phones, wireless headsets simply plug into the base of the telephone in a matter of minutes.
Multi-Tasking: Cordless systems create the ultimate luxury in any work space while increasing work efficiency enabling users to continue working in the office without missing a call.
Other notable changes during 2012 is the discontinuing of the popular Plantronics CS first generation systems which were some of the industries most popular. However they have been replaced by newer CS500 models which include added features ensuring the ultimate hands free experience. Technology changes everyday and TheHeadsetShop.com has been a witness standing on the front lines making sure to stay on top of every detail in order to better serve their customers.
Want More Information? Where to Buy?
TheHeadsetShop.com currently stocks all Plantronics, GN Netcom and Jabra wireless office solutions with expert staff on hand to answer any questions regarding further information. TheHeadsetShop.com includes FREE same day shipping, 30 day money back guarantees along with one or two year manufacture warranties.
For a limited time TheHeadsetShop.com announced on their blog they are offering a 10% promotional discount on all products, just be sure to use promo code extra10 during checkout. All orders over $199 will include free ground shipping as well so be sure to take advantage of this limited time offer for extra savings on their already everyday low prices. Act now because this promotion won't last as the promo code is good through the end of January 2013, click here for details.
Visit http://theheadsetshop.com for more information regarding telephone headsets or call an expert today at 877-656-9526.