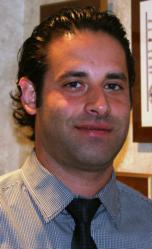 (PRWEB) December 17, 2012
Navid Baradarian, D.D.S., of Marine Park Periodontics & Implantology and Central Park Periodontics can now reconstruct the jawbone with modern bone grafting procedures to correct deterioration that can occur due to missing teeth. The bone graft is designed to either augment or replace bone that is missing around teeth, returning enough strength to the jawbone to support dental implants.
The three main types of graft procedures include the autogenous graft, which uses bone from another area of the patient's body; the allograft, which utilizes human bone that is not from the patient; and the xenograft, which is bone from a source that is not human, such as from a cow.
The main benefits of the autogenous graft are that because the bone being grafted is from the patient it is less likely to be rejected and its cells are still active. The main benefits for using xenografts and allografts include the fact that the patient does not require a second surgery to harvest the bone and that this type of bone is plentiful.
The dental procedure to graft in the new bone begins with the periodontist making an incision in the area to determine how much bone is needed. He then anchors the new bone in place using screws made of titanium. After the graft has completely healed, usually within nine months, dental implants can be installed. These implants are also made of titanium because it integrates with the bone and helps to stimulate it. More information on the dental bone grafting procedures and dental implants can be found at http://www.marineparkperio.com.
Marine Park Periodontics and Implantology is a periodontal practice offering patients personalized dental care for Brooklyn and New York, NY. Dr. Navid Baradarian became a Doctor of Dental Surgery at State University of New York at Buffalo School of Dental Medicine; he earned a Certificate with honors in Productivity and Patient Care from New York University Advanced Education in General Dentistry - New York, NY, and received extensive training in implant dentistry; he achieved his Specialty Certificate in Periodontics at University of Medicine and Dentistry of New Jersey. Dr. Baradarian is part of one percent of dental professionals providing the most recent FDA cleared laser procedure for gum disease and periodontal treatment. To learn more about Marine Park Periodontics and Implantology and their dental services visit their website at http://www.marineparkperio.com and call the Brooklyn location at (347) 586-5997 or New York City at (917) 472-9904.