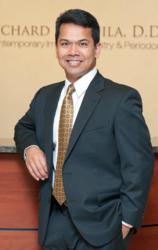 Jacksonville, FL (PRWEB) December 14, 2012
Dr. Richard E. Aguila of Contemporary Implant Dentistry & Periodontics is offering a free dental implant surgery seminar on January 9, 2013. The seminar is hosted by Dr. Aguila and Dr. Matthew Nawrocki, a prosthodontist. The doctors aim to go over the benefits of titanium implants as a successful method of tooth replacement. Patients who attend the implant seminar will be entitled to a free dental implant consultation which values at $400.
While some patients choose fixed bridges and partial dentures, others are excellent candidates for dental implants. The titanium actually integrates with the existing jawbone through osseointegration, which provides a strong base for the crown. Because dental implants assimilate with the jaw, they are strong and function very much like the natural teeth. This not only reduces the loss of bone volume, but also makes it easier for the patient to eat regular foods. There is no slipping or movement of the implant, and it looks just like the other natural teeth in the mouth.
The seminar will take place on January 9, 2013 at 11512 Lake Mead Avenue, Suite #532 in Jacksonville, Fl. 32256 from 5:30 p.m. until 8 p.m.; food and drink will be provided. For more information about Dr. Aguila and his dental implants services visit his website at http://www.laseranddentalimplants.com. Seating is limited for the seminar so those interested please call (904) 683-4781 to reserve your seat.
Richard E. Aguila, D.D.S is a periodontist offering patients personalized dental care for Jacksonville, FL since 2010. Dr. Aguila received his Bachelors of Arts degree in Chemistry and Doctor of Dental Surgery from West Virginia University. He completed a hospital-based General Practice Residency at the Naval Medical Center- San Diego. He practiced general dentistry in the Navy for six years before pursuing his specialty training in periodontics and dental implant surgery at the Medical University of South Carolina. During this time he obtained his Certificate in Periodontics and Masters in Health Sciences with honors. Dr. Aguila has been practicing periodontics and dental implant surgery exclusively since 2001. He is part of one percent of dental professionals providing the most recent FDA cleared laser procedure for gum disease and periodontal treatment. To learn more about Richard E. Aguila, D.D.S and his dental services visit his website at http://www.laseranddentalimplants.com and call (904) 638-7980.