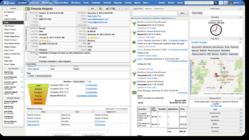 "We built X2CRM after talking with small businesses about the need for a next-generation sales system with a built-in, easy-to-use, marketing automation capability."

-John Roberts, Founder & CEO of X2Engine
Santa Cruz, CA (PRWEB) December 19, 2012
X2Engine announced today the general availability of X2CRM Professional and Open Source Editions for small businesses. Designed for speed and flexibility, X2CRM's purpose built, compact design eliminates the complexity of older and more expensive CRM systems, allowing sales and marketing professionals to accelerate lead generation and sales force productivity, while lowering operational costs.
"We built X2CRM after talking with small businesses about the need for a next-generation sales system with a built-in, easy-to-use, marketing automation capability. These capabilities coupled with a design goal of building a fast and friendly user experience continue to guide us today," said John Roberts, founder of X2Engine. "And, with both cloud and on-premise / downloadable editions, X2CRM is a great value."
X2CRM 2.0 Key Features:
Web 2.0 Speed Optimized User Interface
Web Activity Tracker
Web and Facebook Lead Capture Form Designer
Newsletter Generator
Lead Nurturing, Scoring and Intelligent Routing
Contact Activity Management
Sales Process Workflow Engine
Email Correspondence
Product and Sales Quotes
User Profile Pages and Activity Streams
Custom User Role Designer
Field Security, Roles and Sales Teams
Visual Form Editor for Admins
Reporting Dashboard
iPad and Mobile Apps
Run in the Cloud or on your Servers
Selected Features
Web Tracker
X2CRM's powerful new web tracker captures and records customer website visits, allowing you to create sales alerts when customers visit your website and also trigger automated lead nurturing workflows.
Web Lead Capture
X2CRM allows both sales and marketing professionals to easily create web lead capture forms in a graphical form editor. Web lead forms can be versioned, tagged with special attributes and customized with user specified colors and font styles. The editor generates special, embeddable HTML that users can paste into their website, similar to a Youtube video.
Email Marketing
X2CRM's Marketing module allows users to easily create contact lists, write an email promotion and send it to the selected contacts. All emails are trackable, showing if the recipient opened or unsubscribed the email. Campaigns work with X2CRM's email server or with third party email applications.
Newsletters
The Newsletter module is both a web lead capture and email newsletter generator. With a website newsletter sign-up widget, names and email addresses are collected. Newsletters can easily be written and sent to this newsletter list, and interested recipients can be converted into contacts. Newsletters are a great method for establishing relationships with hesitant prospects.
Contact Management
With X2CRM's ultra fast, Web 2.0 user interface design, sales professionals can quickly navigate larger contact lists, send emails, create product quotations and manage contacts through custom sales processes workflows.
Reporting
Included in the Professional edition is a custom report grid and chart builder. Sales and Marketing professionals can create, save and share custom reports from any module in the system, including everything from user activity and lead status to sales pipeline forecasting.
X2Studio
Special attention has been paid to keeping X2CRM compact in design. However, there are times when customizing the application to specific business requirements allows companies to create an internal advantage. X2Studio is a completely visual customization administration tool, that allows administrators to modify any module in the system. This includes adding or removing fields, changing page layouts and creating completely new modules from scratch, all without any programming knowledge.
Run Anywhere
X2CRM is designed for today's open cloud. Available in both cloud and on-premise / downloadable versions, X2CRM puts the customers in complete control of their data.
About X2EngineCRM
X2Engine, Inc. of Santa Cruz, California, was founded in 2011 by John Roberts, a SugarCRM co-founder and Customer Relationship Management software entrepreneur. The company provides software and cloud hosting services for X2CRM, a next generation open source, sales management system. X2CRM has been installed on over 3,000 public and private cloud servers across 120 countries.
X2Engine Inc. is headquartered in beautiful Santa Cruz, California, a short 40 minute drive from San Francisco International Airport. For a live demonstration, a detailed feature list and screenshot and video library please visit http://www.x2engine.com. X2Engine CRM takes advantage of the latest open source software including Apache, PHP, MySQL and Linux (LAMP).
For more information, visit http://www.x2engine.com or email haley(at)x2engine(dot)com.