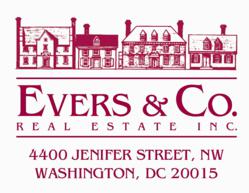 Washington, D.C. (PRWEB) December 14, 2012
While the temperatures are cooling off, the fall Washington, D.C. metro-area residential housing market remains hot with a 21 percent increase in the dollar volume of sales over November 2011. The close-in D.C. area market also saw a 5.5 percent increase in the average home price and days on the market were down 2.4 percent over this time last year.
"The November numbers were good and the end of the year is looking strong for the close-in Washington, D.C.-area real estate market," says Donna Evers, Evers & Co. Real Estate President and Broker. "The D.C. metro-area housing market has continued to gain strength throughout 2012 and this growth and positive momentum should continue in 2013."
Evers says the low inventory of available property will continue to be the only real hang-up in Washington, D.C. and close-in area housing market and the shortage will probably continue throughout the winter into the spring.
Evers stresses that potential buyers should take advantage of the continuing historically low interest rates that dramatically decreases the overall cost of the loan.
"While these ongoing record-low interest rates seem like old news, I can't emphasize the significant difference this makes when taking out a loan," adds Evers. "That you can borrow at an interest rate of 3.5 percent for a 30-year fixed loan is pretty unbelievable and people really need to understand there has never been a better time to borrow."

Statistics are taken from the Metropolitan Regional Information System for three areas: Washington, D.C.; Montgomery County in Maryland; and Fairfax County, Arlington, Alexandria and Falls Church in Virginia.
About Evers & Co.
Founded in 1985 by Donna Evers, Evers & Co. Real Estate maintains its success through a strong referral base and agents who enjoy a premier reputation for their expertise and in-depth knowledge of Washington Metro Area homes and neighborhoods. Evers & Co. is home to 100 licensed real estate professionals with decades of combined experience, who enjoy access to a first-of-its-kind Agent Resource Center. The agency is the largest woman-owned and-operated residential real estate firm in the area and a member of Unique Homes Affiliate Network, Who's Who in Luxury Real Estate and FIABCI, the largest international real estate organization in the world. In addition, the agency has an alliance with My Home In Paris, a residential real estate firm in Paris, France. For more information about Evers & Co. Real Estate, visit http://www.eversco.com.