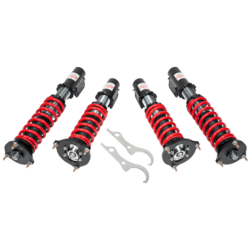 Adjustable camber plates allow you to increase the amount of contact your car has with the ground to improve handling and steering response.
Riverton, UT (PRWEB) December 16, 2012
Raceland annouced today pre-orders for their new multi-adjustable Subaru GD WRX STi '05-07 coilovers which offer owners the ability to adjust ride height through use of adjustable hub mounts to ensure that proper spring pre-load and shock travel are not compromised. What that means is that the dampers are going to last and the ride quality will be exceptional.
The larger '05-07 adjustable lower mounts allow for 1-4 inches of drop over stock height. Other adjustments include adjustable front camber and spring pre-load. These adjustments allow each STi owner to tune their suspension to their liking and for the purpose the vehicle is used for. To sweeten the deal even further, Raceland also offers a 2 year warranty to ensure that the GD WRX STi coilovers are free from defect.
Raceland's new GD WRX STi coilovers are only $469.00 and are available for all 2005-2007 GD STi models. For more information on these GD WRX STi 05-07 coilovers and other Raceland products, visit http://www.raceland.com.