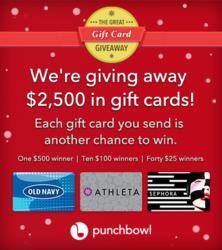 The Great Gift Card Giveaway gives consumers yet another reason to send gift cards through Punchbowl this year.
Framingham, MA (PRWEB) December 17, 2012
Today, Punchbowl.com, the leader in start-to-finish party planning and digital greeting cards, announced the 'Great Gift Card Giveaway.' The contest enables gift-giving consumers to enter for a chance to win a gift card as they send thoughtful gifts to family and friends this holiday season. Prizes for the Great Gift Card Giveaway total $2,500, including a $500 Grand Prize gift card. Every gift card sent provides users with another chance to win.
Gift cards are the number one requested gift of the holiday season, according to a survey from the National Retail Federation, and more than 80% of people plan to send a gift card this year. The Great Gift Card Giveaway is the perfect opportunity to get friends and family a modern, thoughtful gift card, and also be entered to win a prize.
Punchbowl offers gift cards from dozens of leading brands like Amazon, Banana Republic, L.L.Bean, Sephora, and many others. Senders handpick a digital greeting card, select a gift card that is perfect for their recipient, and send or schedule the card for delivery. Senders are entered in the Great Gift Card Giveaway each time they send a gift card now until 11:59pm PST on December 31, 2012. The more gift cards sent, the more chances to win.
"The Great Gift Card Giveaway gives consumers yet another reason to send gift cards through Punchbowl this year," said Matt Douglas, CEO, Punchbowl. "Our best-in-class digital greeting cards with embedded gift cards make the perfect holiday gift."
Giveaway details:

Total prizes are valued at $2,500, with dozens of winners
Prizes range from $25 gift cards to a Grand Prize $500 gift card
To enter, send a gift card for any brand inside a digital greeting card
Gift cards available to send include Amazon, Banana Republic, L.L. Bean, Sephora, and many more
Every gift card sent provides users with another chance to win
The giveaway promotion runs through 11:59pm PST on December 31, 2012
Winners will be notified via email by January 31, 2013
Send digital gift cards at http://www.punchbowl.com/the-great-gift-card-giveaway
About Punchbowl, Inc.
Punchbowl is the company behind the critically acclaimed website Punchbowl.com, the one-stop site that helps smart moms and savvy professionals celebrate special occasions, milestone events, and holidays. Punchbowl offers a modern, effortless way to plan an unforgettable celebration with start to finish party planning. In addition, the site offers free eCards that have the look and feel of a traditional paper card. Founded by Internet and user interface experts Matt Douglas and Sean Conta, the company is located in Framingham, MA and is backed by Contour Venture Partners and Intel Capital. To learn more, visit http://www.punchbowl.com/company