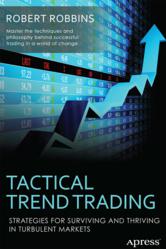 Follow trends and make money, or don't and don't make money. Robbins wants investors to follow trends. His effort is to be saluted. -- Michael W. Covel, bestselling author of Trend Following, The Complete Turtle Trader, and Trend Commandments
New York, NY (PRWEB) December 17, 2012
After three bear markets in the last decade, individual investors – especially baby boomers careening toward retirement – don't have the risk tolerance to be burned once again. Large bull and bear markets unfold in select securities even in flat stock market environments. Each decade has been witness to both meteoric rises and falls, with young companies growing into titans and former Wall Street darlings plummeting into bankruptcy. Whole sectors march to their own tunes if investor sentiment is swayed enough. Capturing these moves and focusing on the most potentially profitable market areas has become key in today's investment strategy.
"Tactical Trend Trading: Strategies for Surviving and Thriving in Turbulent Markets" by Robert Robbins, who is a hedge fund manager, is set at the core of the author's investment philosophy, ie. Technical Analysis. Robbins details the advantages of this pragmatic approach to analyzing the supply and demand dynamics that shape the prices we see every day in markets, ranging from stocks and bonds to commodities and currencies. His approach starts out with the basic premise that if market participants learn to embrace change, they will be better able to harness its ability to unlock profits in every corner of the market. To that end, Robbins equips you not only with the technical trading tools you need to analyze the market backdrop and identify and trade with market-prevailing trends, but also with psychological guidelines that will enable you to blast through the emotional obstacles that stand in the way of profit generation and risk control.
Tactical Trend Trading uses a blend of technical analysis and trend trading in order to increase your net worth and gain financial freedom in an uncertain world. It entails significantly less risk than long-term buy-and-hold investing in individual stock.
It takes commitment, discipline, and the right psychological makeup, but for those willing and able to make the journey, it is the truest path to financial freedom.
About the Author
Robert Robbins, CFA, started his financial career in 1994 in stock market research. Then, from 1995 to 1999, he worked as a stock market strategist, using technical analysis to drive sector strategy, investment ideas, equity strategy, and macro research. In 1999, he started Robbins Capital, LLC, an investment adviser and fund manager, and he served as its portfolio manager and president until 2011. Since 2011, Robbins has been the sole principal, portfolio manager, and president of everTrend Global, LLC, a systematic macro investment fund. Robbins has been quoted in Barron's and the St. Petersburg Times and has provided his insights and knowledge into the stock market on several television newscasts.
About Apress Media
With more than 1,500 books in print and e-formats, Apress is the authoritative source for IT professionals, software developers, and business leaders all over the world. Apress provides high-quality, no-fluff content that helps serious technology professionals build a comprehensive pathway to career success. Since 2007, Apress has been part of Springer Science+Business Media, one of the world's leading scientific, technical, and medical publishing houses, enabling global distribution of Apress publications. For more information, please visit http://www.apress.com.
Robert Robbins is Available for Interviews.
To arrange for a review copy of TACTICAL TREND TRADING or to schedule an interview with Robbins, please contact:
Stephanie Carino | (212) 620-8062 | stephanniecarino(at)apress(dot)com
TACTICAL TREND TRADING
Strategies for Surviving and Thriving in Turbulent Markets by Robert Robbins will be published by Apress on November 28, 2012
Print Price: $29.99; eBook Price: $20.99 | 300 pages | ISBN: 978-1-4302-4479-0