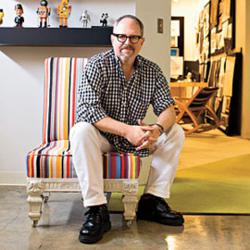 "Moonbot Studios and William Joyce infuse our community with a strong creative energy. Our students and alumni have benefitted from their presence."
Shreveport, LA (PRWEB) December 17, 2012
The work of Centenary College of Louisiana Artist-in-Residence William Joyce has been nominated for a Golden Globe. Rise of the Guardians, based on Joyce's New York Times bestselling book series Guardians of Childhood, was selected as a Best Animated Feature Film nominee.
"Moonbot Studios and William Joyce infuse our community with a strong creative energy," said Matt Bailey, Senior Director of External Relations. "Our students and alumni have not only benefitted from their presence but also had the unique opportunity to add their own time and talents to Moonbot projects."
Rise of the Guardians follows Santa Clause, the Easter Bunny, the Tooth Fairy, the Sandman, and Jack Frost as they work together to protect the innocence of children all over the world from an evil spirit named Pitch.
Since affiliating with Centenary, Joyce has supported the educational goals of the College by sharing his time and talents with staff and students. He has given lectures, in-house demonstrations, office tours, employment opportunities, and internships as his production schedule allows.
Hailed by Newsweek as one of the top 100 people to watch in the new millennium, William Joyce has produced a slew of classics beloved by both children and adults. He has won three Emmys for his Disney animated series, "William Joyce's Role Polie Olie." His illustrations and paintings are displayed at museums and art galleries nationwide.
Founded in 2010, Moonbot Studios is an animation and storytelling company based in Shreveport, LA. Moonbot Studios was co-founded by artists and filmmakers William Joyce and Brandon Oldenburg and veteran film producer Lampton Enochs. Joyce and Brandon Oldenburg of Moonbot Studios recently won Oscars for their animated short film, "The Fantastic Flying Books of Morris Lessmore."
The annual Golden Globe Awards will air January 13, 7:00 p.m. on NBC.
###
About Centenary College of Louisiana
Founded in 1825, Centenary College of Louisiana is the oldest chartered liberal arts college west of the Mississippi River and is a U.S. News & World Report Tier One National Liberal Arts College. A member of the Associated Colleges of the South, Centenary is a selective, private, residential institution, affiliated with the United Methodist Church.