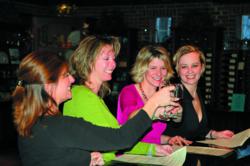 There are people who come just because it's Traverse City.
Traverse City, MI (PRWEB) December 18, 2012
The Traverse City Convention & Visitors Bureau is offering a special Winter/Spring "Traverse City Escape" package – good from Jan. 4 until May 16 – that combines special rates at more than 17 participating hotels and resorts with a wide range of discounts on winter recreation, shopping, dining and entertainment.
"It's true that the busy pace of summer and fall has subsided, but everything you love about Traverse City is still here," said Bureau President Brad Van Dommelen. "Great restaurants, charming downtown boutiques, wine tastings, and exhilarating outdoor recreation. And with fewer crowds and great off-season pricing, now is the perfect time to follow your compass to Michigan's True North!"
For winter sports enthusiasts, the packages include deep discounts on lift tickets, ski lessons and equipment, trail passes and snowmobile rentals. There are also great deals at some of the area's best restaurants and special discounts on shopping, spa services, movies, wine tastings and other entertainment.
Best known as a summer vacation destination, the Traverse City region has recently won accolades as a magnet for skiers, snowmobilers and snowshoe hikers who consider Traverse City one of the country's most beautiful winter destinations. This past year, Budget Travel called it one of the 11 "Coolest Winter Places in America" and Livability.com added Traverse City to its list of the nation's best winter vacation destinations.
What's the attraction? After all, Colorado has higher ski hills, Ontario has more snowmobile trails, and St. Moritz is much more glamorous. Traverse City, on the other hand, prides itself on the diversity of its winter experiences (both indoors and outdoors) and on the sheer physical beauty of its surroundings. Fans of the region say its charm lies in its ability to present a wide range of quality winter recreation for a comparatively moderate price – which appeals to people who don't want to spend an entire vacation doing the same thing over and over.
"There are people who come just because it's Traverse City," says outfitter Jamie Bush, whose rental company supplies snowmobiles to hundreds of visitors each winter. "They love the town, they love the casinos and the shopping, and they love being here at the lakeshore, even when the lake is frozen. Besides, you can get some really good deals on rooms here in the winter."