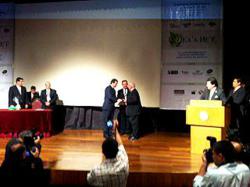 I am grateful to have played a part in bringing stevia to its rapidly emerging position as a sweetener of choice throughout the world
Gilbert, AZ (PRWEB) December 19, 2012
The President of Paraguay, Federico Franco, and the Paraguayan Chamber of Stevia, CAPASTE, honored James May, Founder and CEO of Wisdom Natural Brands®, maker of SweetLeaf Stevia® Sweetener, in recognition of his considerable role in the creation and expansion of the global stevia industry. The ceremony took place during the VI International Stevia Symposium at the Convention Center of the Central Bank of Paraguay in Asunción, Paraguay on November 13, 2012.
May's commitment to making stevia a leading natural replacement for sugar and artificial sweeteners proved profitable to local farmers, who began supporting themselves and their families by cultivating stevia. His endeavors sparked commercial manufacturing interest, earning him praise from government officials who deeply appreciated May's contribution to Latin America's emerging economy.
"I felt deeply honored that the President of Paraguay came to the symposium to shake my hand and personally express to me his gratitude for what I have done over the past 30 years with stevia, which has spawned a new industry for the people of Paraguay, resulting in significant economic benefit to that nation," said May. "When I first began to work with the farmers, very few were interested in growing stevia. There was no market for it anywhere in the world. Now, they refer to stevia as the 'green gold of Paraguay' and their 'National Treasure.' I am grateful to have played a part in bringing stevia to its rapidly emerging position as a sweetener of choice throughout the world, and the only sweetener that generates better health in the human body."
Known as "The Father of Stevia," May first traveled to Paraguay to import stevia in 1982, and has championed the natural sweetener for more than three decades. From the beginning, May could foresee being part of a great natural food revolution when he initially brought stevia to the U.S. and began selling products out of his garage 30 years ago. By adhering to high standards in making natural products, May has become a revered pioneer in a worldwide movement toward embracing healthy, low-calorie options.
His perseverance and dedication resulted in SweetLeaf Stevia Sweetener, a natural sweetener containing zero calories and zero carbohydrates. SweetLeaf® is the only stevia company in the world to have won nine international taste awards.
To learn more about James May and SweetLeaf Stevia Sweetener, please visit http://www.sweetleaf.com.
About Wisdom Natural Brands®
Gilbert, Arizona-based Wisdom Natural Brands® is the parent company of two highly respected consumer brands: SweetLeaf Stevia® Sweetener and Wisdom of the Ancients® herbal teas. SweetLeaf® is the only all-natural stevia sweetener with zero calories, zero carbohydrates and zero glycemic index. The sweetener was recognized as the 2010-2011 Global Stevia Products Award Winner for taste, technology and sustainability by the International Society of Antioxidants in Nutrition and Health. SweetLeaf is sold in boxes containing 35 or 70 packets, as well as in SweetLeaf Stevia Plus® Shaker Bottles for easy home use and SweetLeaf SteviaTabs™ Dissolvable Tablets for on-the-go use. SugarLeaf™, also by Wisdom, bonds SweetLeaf with cane sugar for a low-calorie sugar alternative perfect for baking and cooking. SweetLeaf® Liquid Stevia drops add flavor without calories or carbohydrates to water or favorite foods and beverages. For more information about SweetLeaf products, recipes and more, visit http://www.sweetleaf.com.
Wisdom of the Ancients herbal teas, from energizing Yerba Maté Royale® to calming Rooibos, are available loose leaf or in bags and come in a variety of refreshing flavors. Select varieties are also available with a touch of calorie-free stevia sweetener.
SweetLeaf and Wisdom of the Ancients products can be purchased online at http://www.buywisdom.com or at grocery and health food stores throughout the U.S. and Canada.
MEDIA CONTACTS:
Alejandra Cardenas
McFadden/Gavender
O: (520) 882-6262
M: (520) 440-0618
alejandra(at)mcfaddengavender(dot)com
Karen Gavender
McFadden/Gavender
O: (520) 882-6262
M: (520) 603-4200
karen(at)mcfaddengavender(dot)com
Website:
http://www.sweetleaf.com
###