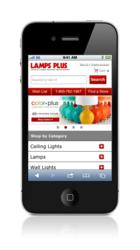 Customers can shop more than 45,000 designs, or speak to a lighting expert, all from their mobile devices.
Los Angeles, California (PRWEB) December 19, 2012
LampsPlus.com, the nation's largest online specialty lighting retailer, was recently named one of the Hot 100 E-Retailers of 2013 by Internet Retailer Magazine.
The "Hot 100" honorees were chosen for developing ground breaking tactics which promise to influence how e-commerce will be conducted in years to come. Lamps Plus was among ten best e-commerce sites named for their innovation in mobile commerce. The honor was the result of a months-long process in which analysts and members of the magazine's editorial staff identified, reviewed and pitched standout sites to their peers.
Internet Retailer Magazine singled out LampsPlus.com for its "Call or Scan" approach to m-commerce, noting how the company's mobile site has successfully made customers' experience easier and more enjoyable.
The magazine took particular note of how smart-phone using customers are connected seamlessly by phone to Lamps Plus' exceptional customer service department and given personalized help. They stated that, "It's no surprise that many Lamps Plus m-commerce site users are on the go. That's why the chain retailer incorporated its Check Store Availability feature into product pages. A customer enters the number of items she needs, along with her name and phone number, and an employee at the store nearest her will call within 10 minutes."
The company is also employing a "scan" approach. Lamps Plus is increasingly outfitting its lighting store locations with QR codes allowing customers to scan individual products to call up more information from the mobile site such as detailed product descriptions and user reviews. They can even save products they like to their wish list for purchase later. All told, the mobile site is optimized for smart phone usage to deliver most features of the full website, including multiple product images, product videos, related product suggestions, store locator and access to retailer's entire catalog of designs, including lighting fixtures, lamps and a wide selection of furniture and home accessories.
The expansion of its mobile capabilities has been a key focus of the Lamps Plus online strategy. "We see mobile as the ideal platform for enabling the personalization of the Internet," explains Angela Hsu, Vice President of Internet Marketing at Lamps Plus. "You can shop more than 45,000 lighting and home decor designs, or ask for expert advice from a live person, all with a single device. The mobile site unites the best of our robust web, call center and brick and mortar presences in a single destination."
In accepting the award from Internet Retailer Magazine, Larry Gee, Senior Internet Marketing Manager at Lamps Plus was quoted as saying, "Our customers will often have additional questions—installation, style advice, etc.—aside from just availability, and getting them on the phone with a qualified professional allows us to service them better."
Customers can expect more innovation from Lamps Plus in the days ahead. "With American Lighting Association certified professionals on staff to answer customer questions and an ongoing series of free Ask the Expert lighting workshops, our retail locations are much more than a place to buy lighting and home decor," says Hsu. "So as we continue to look for ways to provide more mobile functionality, we envision the real and virtual augmenting one another for a more complete shopping experience."
Lamps Plus' "Hot 100" honor caps more than a year of aggressive build-out of the company's mobile presence, and it's not the first time the company has been tagged for its exceptional work. RIS (Retail Info Systems) named the Lamps Plus catalog app a 2011 Mobile App of the Year, calling the app (which allows mobile users to view the company's expansive collection of interactive product catalogs), "a photo rich approach…especially well suited to the iPad form factor, and the beauty of the Lamps Plus products." LampsPlus.com was also ranked #135 in Internet Retailer Magazine's 2013 listing of the top 400 mobile commerce sites.
ABOUT LAMPS PLUS
For more than 30 years, Lamps Plus has been synonymous with excellence in the retail lighting industry. Established in 1976, Lamps Plus is the nation's largest specialty lighting store, with more than 40 superstores throughout the western United States. Together with their retail locations and online business, Lamps Plus serves customers nationwide with the largest selection of functional and decorative lighting fixtures, accessories, furniture and home decor. This selection includes hundreds of products, ranging from traditional chandeliers to the latest in home decor, available exclusively from Lamps Plus. Services include in-home lighting consultations, in-store workshops and installation from expert, licensed electricians. American Lighting Association certified designers are available to offer product recommendations and advice in all our stores, by phone or online at LampsPlus.com. The Lamps Plus family of websites also includes 55 Downing Street, Lighting Luxury Style, Builders Discount Lighting, and Lamps Plus Open Box.