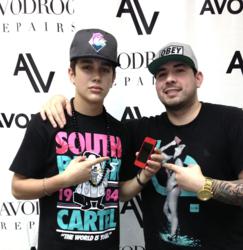 Dallas, TX (PRWEB) December 15, 2012
Just in time for the holidays, Avodroc is rolling out a Mod-by-Mail service for iPhone owners who want to stand out from the pack and express their individuality by customizing the body of one of the world's most popular handsets.
A longtime fixture in the Dallas/Fort Worth area, Avodroc's customized phones have become popular with celebrities like teen singing sensation Austin Mahone and regular folks alike. Now, after receiving interest from potential customers around the world, Avodroc founder Oscar Cordova is launching a Mod-by-Mail program to give people across the country the chance to express themselves with one of his personalized designs.
Beginning December 15, iPhone owners can go to avodrocrepairs.com and order a customized design online, drop their phone in the mail and have a totally unique iPhone to keep – or to share as the perfect gift – within days.
Located at 1111 Belt Line Rd Suite 108G in Garland, TX, Avodroc specializes in repairs for iPhones and iPads. The company takes great pride in offering the quickest, most cost effective cell phone repair service in the Dallas area. For more information visit Avodroc's website at avodrocrepairs.com.