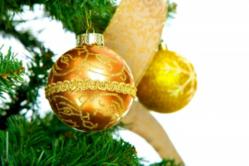 Christmas spirit didn't create this problem; unequal expectations and hurt feelings did.
Anchorage, Alaska (PRWEB) December 17, 2012
With the holidays right around the corner Lynne Curry, Ph.D., SPHR (CEO of The Growth Company) has been receiving multiple holiday–related questions from clients. Today, Dr. Curry responds by unveiling certain "Christmas Spirit Myths."
One client wrote in, asking Dr. Curry what to do. "Christmas spirit created a real mess in our office and has led to three employees not talking to each other. Several of our employees take Christmas seriously and spent time and money buying thoughtful presents for every co-worker. Two or three other employees didn't reciprocate with the same generosity of spirit. One gave no presents at all, one was chintzy with his presents and one woman gave presents to some co-workers and not others. What makes this worse is that several of the most giving employees make the lowest salaries and Mr. Chintzy and Ms. Scrooge are two of our three highest wage earners. The only person who doesn't seem to care about the issue is the man who didn't give any presents at all. Everyone else is walking around tense and irritable. Can you give us some advice?"
Dr. Curry's immediate response is, "Christmas spirit didn't create this problem; unequal expectations and hurt feelings did. My advice – everyone needs to bury their resentment and get on with life."
Those holding on to unequal gift issues may need to uproot one of six myths, explains Dr. Curry.
Myth #1: Hurt feelings make things feel better. Says Dr. Curry, "The truth – you can nurse a wound forever or you can realize you got hurt and set about making yourself feel better. If you're one of the co-workers who didn't get the right presents from others, turn your generosity on yourself and buy yourself something lovely. Then decide it's a brand new year and you don't want the ghosts of Christmas past to haunt you."
Myth #2: You can control another's behavior. Dr. Curry states, "Although you can influence how co-workers treat you by how you treat them, you can't force another person to act as you want them to. This reality especially surfaces in voluntary gift-giving because you purchase and wrap what you give others before learning what your coworkers chose to give you."
Myth 3: Those with the most money give the best gifts. According to Dr. Curry, " If a person's salary or savings equated to the type of gifts they gave, few would have credit card debt. Gift-giving generosity and miserliness relate to an individual's personality, not their W-2."
Myth 4: Everyone gives in proportion to what they receive. "When you expect a co-worker to give you a gift equal to the one you gave them, you create an exchange and not a gift-giving experience. Further, if you expect others to spend the same thought and money on you that you spend on them, you forget that others might contribute more to you than you give to them at other times and in other areas. Does Mr. Scrooge volunteer to jump-start your car when your battery freezes? Does Ms. Chintzy regularly bring brownies and set them near the office coffee pot? Most human relationships allow an easy-going 'you give what you feel comfortable with and I'll do the same.' What makes us expect equity in Christmas presents when good relationship health comes from a focus on giving not getting?" Dr. Curry explains.
Myth #5: You can simply get without giving and without consequence. Dr. Curry illuminates that every work team includes givers and takers. "If you happen to be an oblivious taker, watch out as those who repeatedly give with reciprocation may find their patience running out. If this warning applies, take action before you find your workplace growing colder than an ice box by making it up to those who generously gave to you at Christmas or throughout the year. Surprise them with an invitation to lunch or another tangible thank you and re-establish a reasonable equilibrium."
Myth #6: If someone treats you badly, you can't forgive them until they "get it" and apologize. The pitfall with this thinking – some never "get it." According to Dr. Curry, "When you wait for another to say 'I'm sorry,' you give them all the power. Forgive the takers in your life by realizing you'd rather be generous with others than a miserly taker."