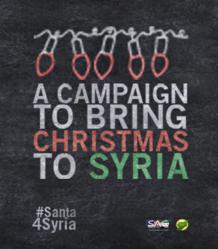 Washington, DC (PRWEB) December 14, 2012
The Syrian American Council (SAC) — the nation's largest Syrian-American advocacy organization — launched a campaign this week to raise funds to bring Christmas to Syria. Contributions will be used to purchase gifts such as toys, coats, blankets, and shoes for Syria's children. All purchased gifts will be distributed to Churches and Christian-majority neighborhoods in Syria during the week of Christmas.
"In times of confusion and difficulty, Syrian children look for moments of hope. As Syria is engulfed by instability, it is the children that feel a certain type of pain," said SAC Vice President Mirna Barq. "This is our attempt to help bring moments of hope, memories of love and joy to the children of Syria this Christmas — a holiday I had the privilege to celebrate while growing up in Syria."
ACTION REQUESTED:

Contribute here.
Forward this message to your contacts. Make your community a part of this campaign.
Click here to join the Facebook event page and invite your friends to join.
Use the hashtag #Santa4Syria to raise awareness about this campaign on Twitter.
Upload this image as your cover photo on Facebook and Twitter.
Visit http://www.SaveSyrianChildren.org and join the movement to demand that violence against children end.
This campaign is in collaboration with the Syrian Sunrise Foundation (SSF), a humanitarian organization providing aid inside Syria and in Syrian refugee camps in neighboring countries. To learn more about SSF, visit http://www.ssfusa.org.
Syria's revolution is now in its twentieth month and dictator Bashar al-Assad continues to commit atrocities against his own people. To date, according to the Strategic Research and Communications Centre more than 45,000 people have been killed by the Assad regime, including 3,600+ children. There are more than 500,000 Syrian refugees in neighboring countries and more than 4 million people have now been displaced inside the country.