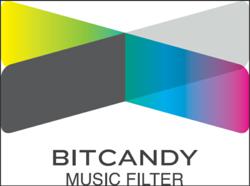 the definitive music filter
New York, New York (PRWEB) December 22, 2012
BitCandy.com's Indie Sampler is a collection of twelve songs from budding artists like ON AN ON, Kids Without Instruments, Wolf Larson, Freedom Fry, IO Echo, and many more. In collaboration with the artists, BitCandy.com offers this new compilation via a widget on their main web page at no cost; simply enter your email and download the entire selection. The free Indie Sampler introduces up and coming artists' latest music tracks, providing grass roots support and exposure for new artists.
BitCandy, Los Angeles' leading music filter, rewards indie music fans with its download of the Indie Sampler. These latest music tracks were mostly discovered through BitCandy's Curator program, which gives anyone on the web the opportunity to claim the discovery and bragging rights of a new music artist they are passionate about.
Downloading the Music Sampler is fully legal and all the artists have given their consent. It is free music because BitCandy worked hand in hand with the artists featured on the collection so that everyone is included and respected in the process. By simply entering an email address into the widget on the lower right hand side of BitCandy.com's home page, an email is directly sent with the entire compilation a single click away. As a result, twelve top new songs from these new indie artists can be added to any music collection in seconds.
BitCandy was founded in 2012 to provide music lovers an alternative to the traditional music sources. Branding themselves as "the definitive music filter," BitCandy works with its listeners to share and discover the most outstanding music being created. The site offers a cutting edge music blog, reviews on music, music charts, online radio, and endless music discovery opportunities for anyone obsessed with great music.