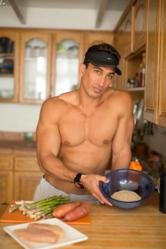 "70 percent of the battle is won in the kitchen,"
Malibu, California (PRWEB) December 14, 2012
Celebrity fitness guru and fitness cover model Diego Sebastian has finally found a way to share his simple instructions for rock hard abs with everyone. "With [The Shredded Abs App] you get a personal trainer inside of your smart phone with instructional videos on everything from diet and nutrition to detailed workout routines." The app, due to come out this holiday season, contains everything an eager user would need to get rock hard abs, just add hard work.
Do six pack shortcuts really exist? Not according to Diego Sebastian, who says it's all about hard work and diet.
The Shredded Abs App also takes a hard look at health and nutrition. "70 percent of the battle is won in the kitchen," says Sebastian. His outlook on diet specifically denounces red meats and dairies. Red meat contains animal fats that are linked to heart disease and cancer, while dairy is difficult for the body to process, and neither would help a fitness hopeful along the way to sculpted abs.
Diego Sebastian hopes to empower people with his new fitness app, so to that end, the Shredded Abs App helps its users take their health into their own hands. Sebastian encourages his clients to take resistance bands with them while traveling, so that they never lose that fitness-oriented part of themselves, even when away from their routine environments.
Diego Sebastian is a personal trainer and fitness cover model whose Shredded Abs App will be launching this holiday season.