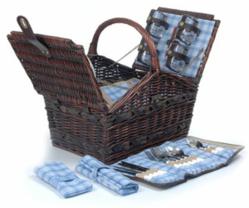 Stylish Picnic Baskets to create great Picnic Moments!
Sunnyvale, CA (PRWEB) December 16, 2012
This Christmas shoppers have a new option to buy their holiday gifts. At PicnicMoments.com consumers will find a large selection of picnic baskets and picnic accessories at bargain prices. Shoppers can browse into the different categories to select the picnic products that best fit their needs. The online store offers form the classic wicker picnic basket and wooden picnic basket to the convenient picnic basket backpack and picnic cooler. The products are sold empty or fully equipped for two and four companions.
Additionally, PicnicMoments.com offers picnic tips, picnic recipes and much more for the picnic lovers. "I love picnicking, I have beautiful memories with my family and friends picnicking all around Europe and America. I love to share my tips and recipes with all my costumers" said Diana Garcia, founder and CEO. "Our goal is to offer our customers a pleasant shopping experience, not only by giving them an excellent costumer service, but also by helping them to create wonderful picnic memories", affirmed Diana Garcia.
For this Christmas season the store offers a 30% off in all the picnic baskets and an extra 10% discounts through promotional coupons. The store also offers 30 days money back guarantee for any return. This is a great opportunity for shoppers to buy their Holiday gifts.
Shopping online has become the way of the future for gift giving ideas and to buy gifts for everyone. PicnicMoments.com is one more resource for online shoppers by offering an enjoyable, comfortable and reliable browsing experience for every picnic need.
PicnicMoments.com, a part of Maracuya, LLC, specializes in selling high quality picnic baskets and picnic accessories at a bargain price. The site offers an extensive line of picnic products to fit any budget and style while ensuring great costumer service. For more information visit http://www.picnicmoments.com