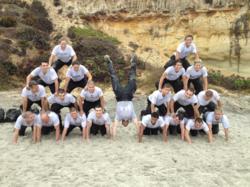 San Diego, CA (PRWEB) December 17, 2012
A group of 2012 CrossFit Games Winners took their training to the next level by participating in this month's Unbeatable Mind Kokoro Camp. Based on the famous Navy SEAL Hell Week concept, these Camps are the world's premier training camp for forging mental toughness and the "Warrior Spirit". Kokoro Camps are an intense crucible experience with hands-on learning for 50 hours over the course of a weekend. Like CrossFit, lessons learned at Kokoro are life lessons that create a new, unbeatable, state of mind and a new way of orienting oneself in the world.
Camps take place multiple times yearly at the SEALFIT/US Crossfit Campus in San Diego and are run by retired Navy SEAL, entrepreneur, and Coach, Mark Divine. Divine released the Unbeatable Mind Academy in October of 2011, which utilizes an integrated warrior development model, drawing from his 20 years as a SEAL and business leader, 25 years as a martial artist, and 15 years as yoga practitioner. The Unbeatable Mind KOKORO camp is a condensed version of his academy with a MUCH heavier emphasis on the physical aspects. SEALFIT's Unbeatable Mind is uniquely effective at elevating clients to a higher level of operating, thinking and leading – encompassing the full spectrum of human experience – Body, Mind and Spirit in Self, Team and Organization.
Kokoro 26 was in Honor of SEALFIT Coach, friend and former SEAL, Glen Dougherty, who was killed in Libya. At the end of the weekend, right before the team was secured, the team chanted Glens name. It was also unique in the fact that it was packed with 2012 CrossFit Games winners and it hosted the most women out of any Kokoro Camp yet. Hacks Pack UTE, the CrossFit Games 2012 Winning Team including three women, was led by Tommy Hackenbruck. Two other Games Finalist Women, Valerie Voboril and Lindsey Valenzuela (both finishing #5 in the games) participated. Twenty of the twenty-nine Kokoro 26 participants finished and all 5 women finished strong.
Tommy Hackenbruck, a Kokoro 26 Graduate explains the experience well, "Reflecting on my 2nd trip to the Kokoro camp... In the most stressful and demanding situations I am able to achieve calmness and extreme focus by using my breath, positive self talk and having confidence to act out a plan. I have found this extremely valuable in competition, where I am faced with making game changing decisions in a matter of seconds and relaying them to 5 other teammates. I have found it valuable in parenting two toddlers, realizing that if I can stay calm and focused when they are screaming and crying, they will follow my lead. I have also found use for it in business, where I am sometimes faced with multiple decisions that will affect my well-being and the well-being of 5 employees. I have found that even though I don't always make the best decision in each scenario, my ability to decide, communicate with my team, and diligently execute a plan under pressure ensures we will be successful in the long run."
Kokoro 26 campers developed mental toughness, worked on Leadership skills, building elite teams, self mastery, character and their Kokoro (unconquerable spirit) in this one of a kind training. See more for yourself, by viewing Kokoro 26 Camp Photos HERE. Originally designed for Special Operations candidates, Kokoro is open to all who are willing to prepare and step up to the challenge. Students come from all walks of life, and include professionals, all US SOF and military candidates, many foreigners and CrossFit athletes and a few tough Moms. Sign up today for one of the 2013 Camps.
More on SEALFIT/Mark Divine: Divine's SEALFIT program, SEAL training Kokoro Camps, online Unbeatable Mind Academy, and books are all essential programs and tools to train individuals to increase their Leadership skills and to become Warriors. Visit http://www.sealfit.com/ for additional program, training tools, and Kokoro Camp information. With the help the online Unbeatable Mind Academy, anyone can learn to increase their overall mental game and how to develop an "Unbeatable Mind". The vast array of trainees (CrossFit members, elite athletes, corporate CEOs, avid business owners) have all experienced increased focus, peace of mind, resiliency and calmness under pressure in their daily lives. Learn the inner secrets of Navy SEAL Mental Toughness and develop a Warrior Offensive Mind-set by visiting http://www.unbeatablemind.com/ today.